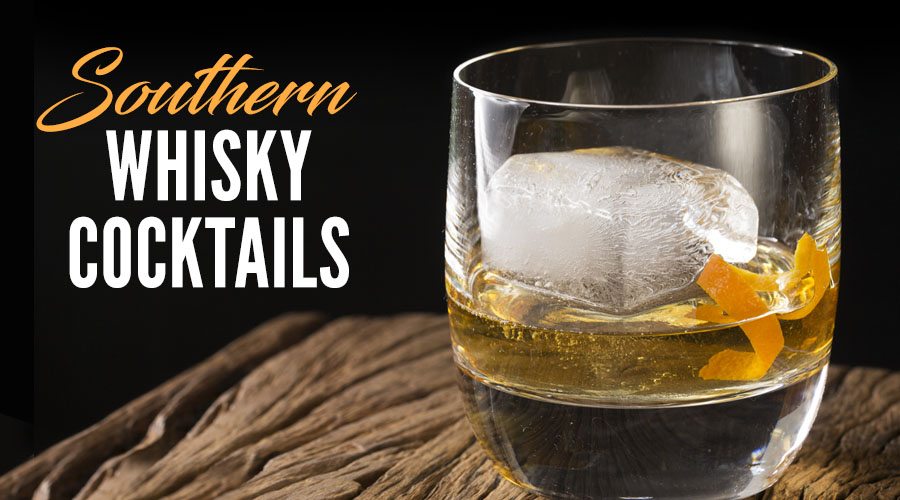 3 Simple, Southern Whisky Cocktails
Just like us here at Spec's—you probably live here in the south.
And whether or not you were born here in Texas, there's no denying that southern living has a special feeling to it.
When a southerner thinks of home, they think of many things: Pecan pie. Hospitality. Taking it easy on a warm sunny day. These 3, easy-to-make whisky cocktails capture all those things.
Swing by your nearest Spec's for their ingredients. Whip a few up for your friends and you'll find one sip will make them feel right at home—even if they aren't a native southerner.
Spiced Pecan on the Rocks
The Texas Select Club Pecan Praline whisky is really what brings out the southern taste of this cocktail.
(Makes 1)
Ingredients

Directions
Add sugar, bourbon, and bitters into a shaker with cracked ice.
Stir ingredients and strain over fresh ice in a rocks glass. Garnish with pecan. Enjoy!
Crown Royal Vanilla Ginger Ale
When Crown royal vanilla meets ginger ale, you'll swear they were made for one another. One of the easiest cocktails to make.
Ingredients
1½ oz Crown Royal Vanilla
¼ oz Ginger Ale
Lemon twist for garnish
Directions
Add Crown Royal Vanilla to an ice-filled highball glass.
Add Ginger Ale and stir. Garnish with lemon twist.
Crown Royal Vanilla Old Fashioned
If you're still skeptical of Crown Royal vanilla, we get it. You probably prefer your whisky to just taste like—whisky. A traditionalist. We're a fan of the classics too, but this southern take on an old favorite is sure to change your mind.
Ingredients
¼ oz Simply Syrup
½ oz Crown Royal Vanilla
3 dashes Angostura Bitters
3 dashes Orange Bitters
Orange peel twist for garnish
Directions
In old-fashioned glass, combine simple syrup and bitters.
Fill glass halfway with ice, then stir. Add enough ice to fill glass.
Squeeze orange peel over glass to extract oils, add peel to glass, and add whiskey. Stir to chill drink and serve.
If reading these cocktail recipes make your mouth water, then you have good taste my friend.
For your convenience, buy the key ingredients online right here:
Crown Royal Vanilla
Texas Select Club Pecan Praline Whisky