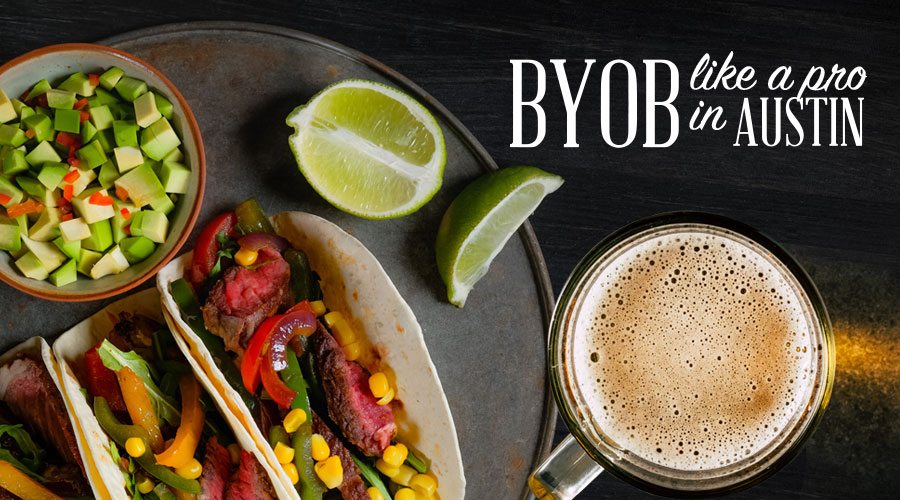 Avoiding SXSW Crowds: How to BYOB in Austin
There's nothing like the SXSW experience. Over a week of the latest and greatest of the music, film and interactive industries. The SXSW conference and festival brings in thousands of tourists and locals alike flocking to the city streets of Austin, TX. Some of the locals know it as the other 'March Madness'. Let's face it — a full week takes a lot of stamina. Sometimes it's just nice to go out and enjoy a beer or wine without all of the SXSW hullabaloo.
Want to experience Austin and avoid the crowds?
We have four letters that can be just as fun as "SXSW"— and that's BYOB. BYOB is more common in Austin than you'd think. We've composed a guide that'll give you a great taste of the local Austin restaurants, along with the best beer and wine options you can pick up from Spec's that pair deliciously with their unique cuisine.
Best Austin BYOB Locations
1: TacoDeli: North and South Locations
Austin loves their tacos and this zesty taqueria chain doesn't disappoint. Pair the spicy cuisine with Oskar Blues Dale's Pale Ale, a mix between an American and India Pale Ale. The only thing better than enjoying this with a great taco is the on-point price.
With custom farm to table dining, this is for the health conscious foodies in town looking to refine their dine. We recommend pairing with a Duck & Weave Pinot Noir. This Pinot is a budget conscious wine for the discerning palate.
This Austin hot spot includes live belly dancing and hookahs to rent from right across their lively outdoor patio! Pair their Mediterranean cuisine with Boulevard Long Strange Tripel or a Saracco Moscato d'Asti.
Make your own mimosa at this cheery breakfast stop! We recommend a Borgo Magredo.
Nothing is as Texan as great BBQ. Except of course having a great beer to go with it! Bring along a 6-pack of New Belgium Fat Tire to pair with this savory local favorite.
For a pizza pairing that'll make you say "Mama Mia!", try a Clown Shoes Hoppy Feet Black IPA. With a name as fun as "clown shoes", you know it won't be boring.