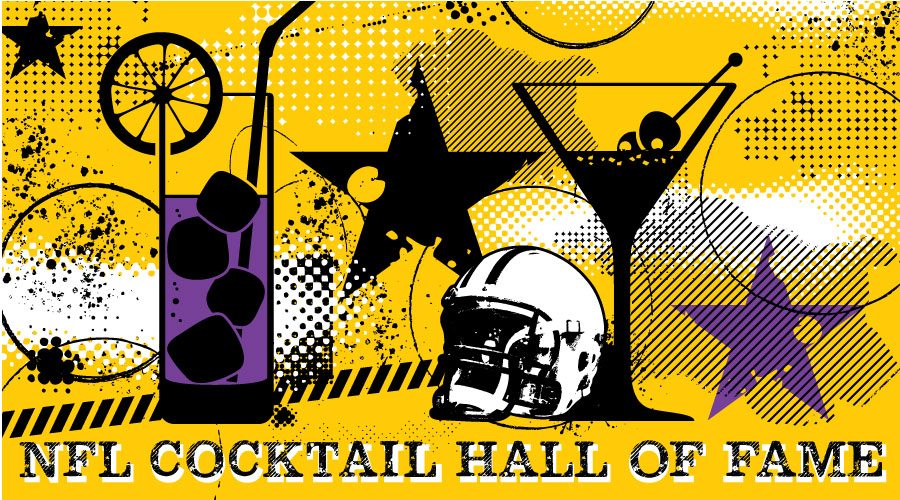 It's time for the first game of the NFL pre-season – The Hall of Fame Game! Unlike other NFL games, the NFL/Hall of Fame Game is played at Tom Benson Hall of Fame Stadium, a historic high school stadium in Ohio. This year features the Minnesota Vikings vs. the Pittsburgh Steelers.
"Yeah, yeah, yeah… get to the drinks!"
Fair enough!
For the Vikings fans, we're going way back to honor arguably the best defensive line the NFL has ever seen, the "Purple People Eaters" from the late 60's to late 70's. This cocktail is a variation of the Long Island Iced Tea.
Purple People Eater
3 oz vodka
1 ½ oz cranberry juice
½ oz blue curacao liqueur
½ oz sweet & sour mix
½ oz lemon-lime soda
Mix all spirits in a large glass. Add a splash of lemon-lime soda and stir. Enjoy!
Now for the Steelers fans…
Blitz-burgh
1 ½ oz whiskey
1 ½ tsp triple sec
1 tsp powdered sugar
Dash of angostura bitters
Orange wedge for garnish
Combine all ingredients in an ice-filled cocktail shaker and shake well. Strain into a glass with ice and garnish with an orange wedge.