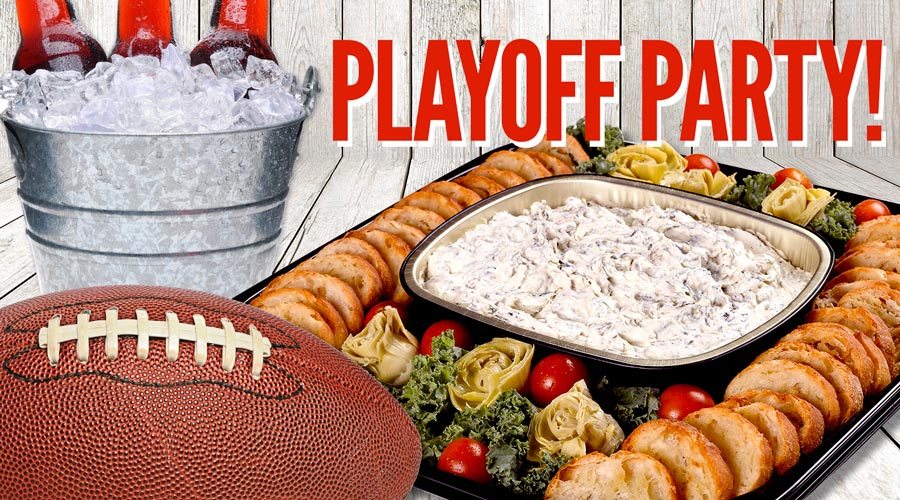 Kick Off Your Playoff Party Plan
When you're hosting ravenous football fans, there are only two ways to play it: either spend hours shopping, chopping and cooking, or let Spec's hearty party trays take it from kick off to post-game wrap up.
Delicious artisanal cheese platters, gourmet salads, sandwich and specialty platters and savory desserts—we're champions at keeping visitors in fan-tastic spirits no matter which side is winning.
Play it smart! Give Spec's a call at 888-526-8787 or go to specscatering.com.
Spinach & Artichoke Dip
Die-hard fans never take a pass on this delicious dip. Our creamy, cheesy classic teams up with a fresh, sliced baguette.
Tex-Mex Dip
A hefty version of the seven-layer dip with refried beans, sour cream, guacamole, olives, cheddar and pico de gallo. Cilantro cream sauce and tortilla chips included.
Spinach Bacon Dip
Crispy bacon paired with a tasty blend of spinach and creamy cheese plus the triple threat of a fresh, sliced baguette.
Gourmet Sliders
Our platter features a roster of roast beef and cheddar, turkey and brie, ham and manchego, and grilled vegetables with feta and pesto.
Pimento Cheese Spread
Score big points with this spread! Colorful, tangy and satisfying, this homemade recipe is teamed with a sliced fresh baguette.
Assorted Mini Classics
This popular line-up includes tender, homemade white meat chicken salad, tuna salad and pimento cheese sandwiches with grapes on the sideline.