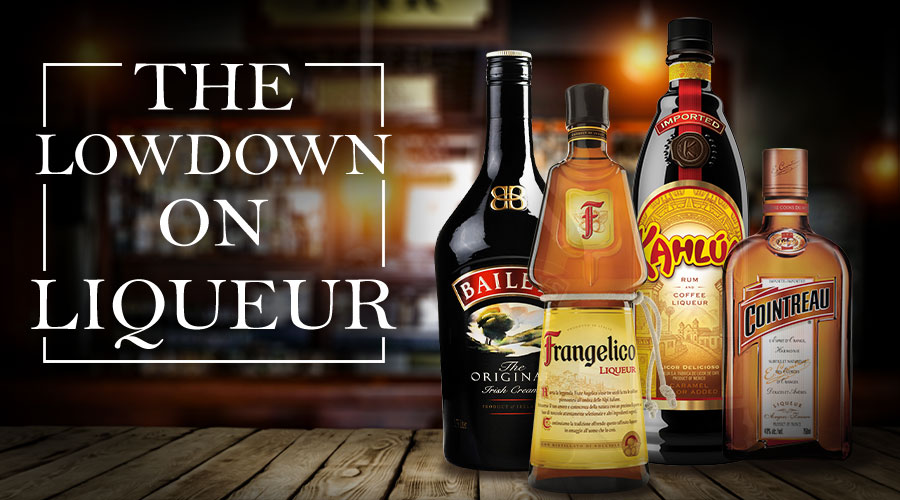 The Lowdown on Liqueur: Cocktail Recipes
When stocking your home bar or even just ordering a drink, the words "liquor" and "liqueur" can appear confounding similar. Besides looking and sounding the same, they also have a lot in common in that both are alcohol, both are fond in stores and at bars and both are used to make cocktails. The key difference between these two is how to use them and how much to use – as mixing them up will lead to an atrocious concoction!
We'll explain the difference and recommend some popular liqueurs to get you started mixing them into your cocktail repertoire.
What Are Liquors?
Liquors are sometimes called "spirits" or "hard liquor" and are made through distillation, unlike beer and wine. They typically have low amounts of sugar added and are relatively high proof. Liquors are the foundation of cocktails and usually make up 90% of a drink.
What are Liqueurs?
Liqueurs, on the other hand, are almost always made from liquors. Basically, liqueurs are liquors with sugar and flavor added. Liqueurs usually have lower alcohol levels due to be diluted by the sweetener and flavorings. The flavorings vary but include things like herbs, fruits, nuts, and flowers. They are often served as after dinner drinks called "cordials", but they're most often used in cocktails, coffee, or poured on desserts. If the bottle says liqueur, you can count on it to be sweet and flavor forward.
Popular Liqueurs & Cocktails
White Russian
Ingredients
1½ oz. Baileys
½ oz. Vodka
¼ oz. Kahlúa
Directions
Pour all ingredients into a glass with ice and stir.
Combine in a glass and mix.
Garnish with Maraschino Cherry.
Kahlúa – rum, sugar, vanilla bean, and arabica coffee
Black Russian
Ingredients
Directions
Add all the ingredients into a mixing glass with ice and stir.
Strain into an Old Fashioned glass over fresh ice.
Frangelico – hazelnuts, coffee, cocoa, vanilla distillate, and extracts
French Fry
Ingredients
1 oz. Frangelico
½ oz. Triple Sec
2 oz. Lime juice
1 dash pineapple juice
Directions
Pour the Frangelico hazelnut liqueur, triple sec, lime juice and pineapple juice into a cocktail shaker half-filled with ice cubes.
Shake well, strain into a highball glass, and serve.
Amaretto – apricot kernels, herbs and spices,
Amaretto Sour
Ingredients
1½ oz. Amaretto liqueur
3 oz. Sweet and sour mix
Splash of lemon-lime soda
Maraschino cherries
Directions
Combine and shake the liqueur and mix in a cocktail shaker.
Pour the contents into a glass and add crushed ice and as many cherries as desired.
For an elegant touch, dip the rim of the glass in lemon juice and coat it with granulated sugar before adding the liquid and cherries to the glass.
Campari – 86 ingredients including herbs, peel from bitter oranges, roots, spices, and sugar
Negroni
Ingredients
2 tbsp. Gin
2 tbsp. Campari
2 tbsp. Sweet vermouth
1 Orange twist
Directions
Combine gin, Campari, and sweet vermouth in an ice-filled Old Fashioned glass
Stir gently and garnish with an orange twist
Cointreau – sweet and bitter orange peels and sugar beet alcohol
Cosmopolitan
Ingredients
2 oz. Citron vodka
½ oz. Cointreau
1 oz. Cranberry juice
½ oz. Freshly-squeezed lemon or lime juice
Crushed ice
Directions
Combine all four ingredients in a shaker with ice and shake.
Strain the contents into a cocktail glass and garnish with a slice of lemon.