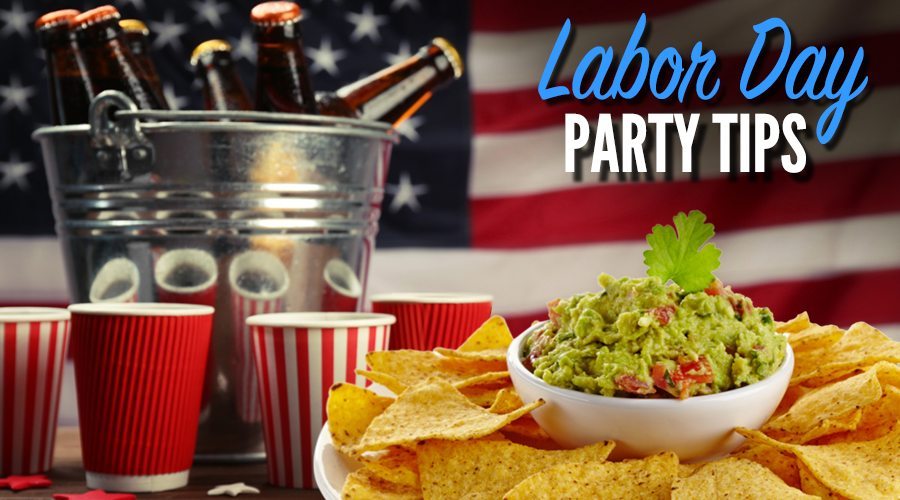 Labor Day is many things. It's a way for us all to say 'Cheers to the American workforce!', 'So long, summer!' and 'Heck, yea—three day weekend!' all at once.
Here are some simple tips to plan your perfect Labor Day Party.
Tip 1: Send Invitations
For a weekend dedicated to rest and relaxation, Labor Day can get to be a busy weekend for many. Your potential guests may make summer plans quickly, so it's always good to send out invitations as soon as possible.
Hand-made invitations are a fun way to express your creativity if you send them out early. However, creating a Facebook event page is also a great way to keep track of RSVPs.
Tip 2: Choose the Decor
For an all-American holiday such as this, decorating with a patriotic flair can be a fun way to create a festive ambiance. For a casual Labor Day party, use red, white, and blue for party decorations such as; streamers, balloons, plates, cups, table cloths, and the like. Throw in some seasonal flowers, and asking your guests to wear red white and blue will make your party Pinterest worthy.
Many Labor Day parties revolve around the pool and grilling. If you have a pool, some ideas to create some beautiful ambiance are to create floating pool candles after dark, along with some tiki torches and/or lanterns.
Aside from focusing on the American aspect of the holiday also tie in some classic BBQ/picnic décor such as rustic centerpieces filled with seasonal flowers and classic picnic table covers over each tabletop. Finalize you decorations with lighting to create ambiance. Paper lanterns or tiki torchlights are the perfect for any outdoor party.
Tip 3: Build Your Menu
Take full advantage of the last (unofficial) weekend of summer, and grill it up this Labor Day. Here are some menu ideas:
Honey Mustard Grilled Chicken and Veggie Kabobs
Rib-eye steaks and Grilled Bacon-Wrapped Asparagus
Bleu Cheese Burgers with Mushrooms or Pulled Pork BBQ Sandwiches
Coleslaw and Potato Salad
Tomato Bruscetta
Fruit Salad
Make-your-own ice cream sundaes
Fruit Cobbler (such as peach, apple or cherry)
Or you could always cut out the prep-time, and have some tasty treats catered. We offer a large selection of party trays. The mini empanadas, stuffed brie, and 'around the world' gourmet cheese sampler are just a few that always go over well with guests.
After you've planned the menu, what about drinks? Labor Day cocktails are all about providing a refreshing summer.
Here are some ideas: beer margaritas, watermelon sangria, mojito slushes, piña coladas, tequila sunrise, lemonade rum punch, etc.
Tip 4: Host Party Games
If you're guests are the sporty type, organize a game of volleyball or flag football. Want to keep it more casual? Opt for the yard sports like horseshoes, cornhole, outdoor bowling, or giant jenga. Add some American-spirit to the games by spray painting them in patriotic colors.
Follow these simple tips and you're sure to throw a Labor Day party your guests will want to copy next year!
Want more drink recommendations? Ask the knowledgeable, party-pros at your nearest Spec's. Enjoy your Labor Day weekend!