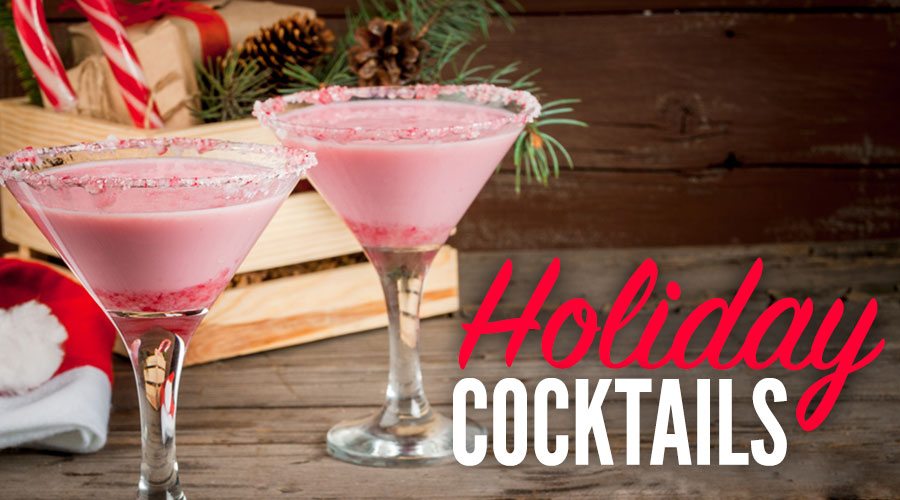 Uncork Your Holiday Spirits
It's the most wonderful time of the year… to mix up an enticing cocktail! These seasonal recipes are so certain to spread holiday cheer—even the Grinch-iest party guest will go from "Bah Humbug" to "Bah Heck-Yeah!" So pull your sleigh in to the nearest Spec's and grab the goodies you'll need to make them.
Holly Jolly Cranberry Mimosas
Ingredients
750ml Champagne
2 tbsp sugar
1 cup sweetened cranberry juice
12 fresh cranberries
1 lime, halved
4 sprigs rosemary for garnish
Directions
Rub the rims of flutes with lime and dip in sugar. Pour ¼ cup juice into each glass and top with Champagne. Use a toothpick to poke a hole through cranberries. Thread rosemary skewer through cranberries and garnish mimosas.
Candy Cane Cocktail
Ingredients
2½ oz vodka
1 oz white crème de menthe
½ oz peppermint schnapps
Cream
Splash of Grenadine
Crushed peppermint candy cane (to rim glass)
Whole mini candy cane for garnish
Directions
Add a dash of grenadine into the bottom of a chilled martini glass. Set aside. Pour all remaining ingredients (with the exception of candy garnishes) into a cocktail shaker filled with ice. Shake well and strain into the glass with grenadine to create a "swirl" effect. Rim glass with crushed candy and garnish with a whole mini-candy cane. Serve and enjoy!
St. Nick's Salted Caramel Eggnog
Ingredients
4 oz eggnog
1 oz spiced rum
Kosher salt
Whipped cream
Caramel sauce, warmed
Nutmeg, freshly grated
Directions
Coat inside of Irish whiskey glass with warm caramel sauce. Add eggnog, spiced rum, and a pinch of salt and stir. Top with whipped cream, a drizzle of caramel and freshly grated nutmeg.