CELEBRATE ALL THINGS MERRY AND BRIGHT
WITH THESE DELICIOUS HOLIDAY cocktails!
Peppermint Mocha White Russian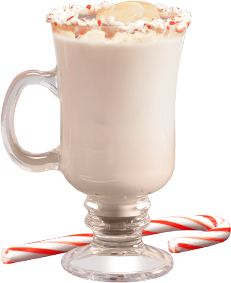 1 oz Smirnoff No. 21 Vodka
1 oz Kahlua Coffee Liqueur
3/4 oz Peppermint Schnapps
1 oz Heavy Cream
Vanilla Frosting and Crushed Candy Canes for garnish

Dip your glass into frosting and over crushed candy canes to rim. Fill your glass halfway with ice and pour in vodka, Kahlua, and Peppermint Schnapps. Top with heavy cream and stir.
Cranberry Cinnamon Whiskey Sour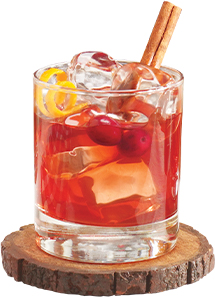 2 oz Wild Turkey Longbranch Bourbon
¼ cup Cranberry Juice
1 oz Orange Juice
½ oz Lemon Juice
½ oz Lime Juice
Cinnamon Sticks, Fresh Cranberries, and Orange Peel for garnish

Fill cocktail shaker halfway with ice. Add cranberry juice, whiskey, orange juice, lemon juice, and lime juice. Shake and pour over glass with ice. Garnish with cinnamon stick, fresh cranberries, and orange peel.
Gingerbread Moscow Mule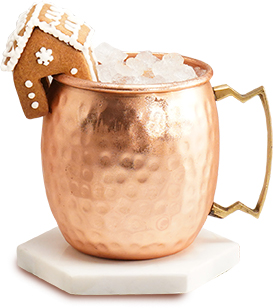 • 1 ½ oz Absolut Elyx Vodka
• Fever Tree Ginger Beer
• ¾ oz Ginger Syrup
• ½ oz Fresh Lime Juice
• ½ tsp Molasses
• Gingerbread Spice and
Mini Gingerbread House Topper
for garnish

In a copper mug mix the vodka, ginger syrup, lime juice, and molasses. Add crushed ice and top with ginger beer. Sprinkle gingerbread spice and place mini gingerbread house on rim.