featured recipe OF THE MONTH in EDIBLE magazine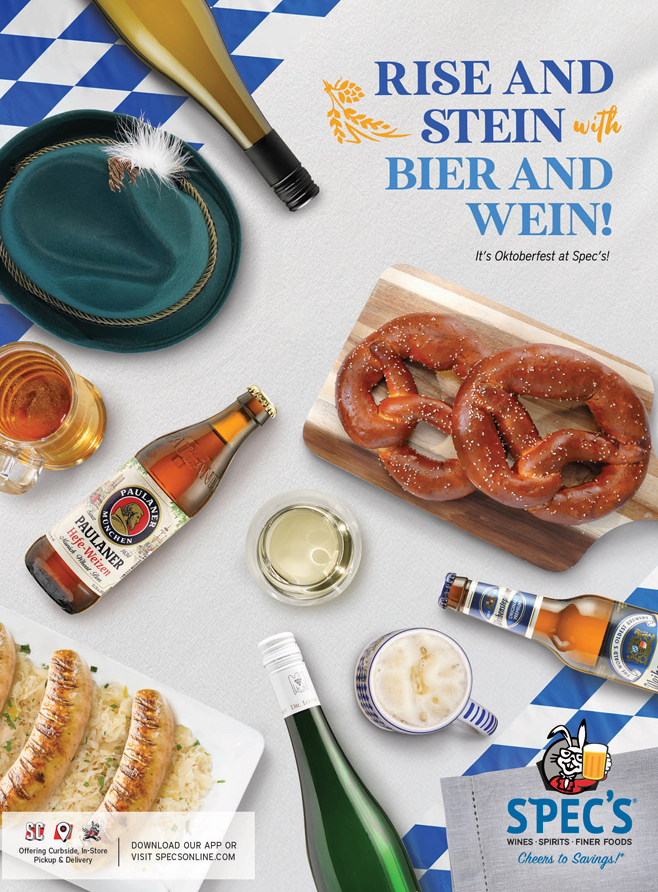 Prost to the Plate!
No matter where you're celebrating
Oktoberfest, you'll need a glass of
Riesling or a pint of hefeweizen to stay
true to its German heritage. And nothing
pairs better with an authentic German
beverage than authentic German food!
Whether it's a juicy bratwurst, a warm
pretzel, or if you're really lucky, a pretzel
stuffed with bratwurst, these pairings
will have you'll be raising a glass and a
plate for seconds!
A few suggestions to get you started:
Beers
Paulaner Hefe
Weihenstephaner Original
Steigl Grapefruit Radler
Spaten Optimator
Wines
Schmitt Sohne Funf
Schmitt Sohne Relax Riesling
Relax Red
Dr. Pauly Noble House Riesling
Slate (by Wilhelm Bergmann)
Dr. Loosen L Riesling
Find the Perfect Drink Recipe
Set sail to deliciousness with this easy-breezy Safe Harbor! Get all the ingredients and more
A little Georgia, a little Kentucky, and a whole lot of deliciousness! Check out our Sweet Bourbon Peach Lemonade recipe for some good ole summer refreshment!
It's time to crank up the tropical music and grab your twisty straws, it's Rum Month and we're going full tiki!