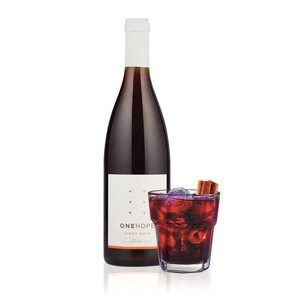 Ingredients
750ml pinot noir
750ml sparkling brut
1/3 cup sugar
3 cinnamon sticks
1 cup chopped cranberries
Cinnamon sticks for garnish
Preparation
In a small pot, combine all ingredients except sparkling brut. Bring to a boil, stirring until sugar dissolves. Simmer 5 minutes until wine has reduced slightly. Let cool, remove cranberry pieces and refrigerate until ready to serve. Pour into a glass with ice and garnish with a cinnamon stick.