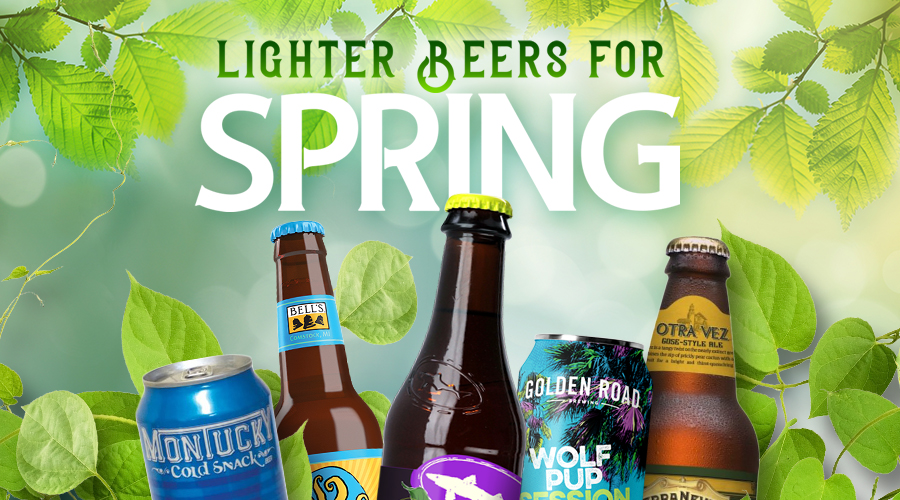 It's officially springtime! And more importantly, winter is done ruining our outdoor fun! Also done are winter's dark, thick beers that kept us full and warm during the cold season. Which means lighter spring beers are here to refresh your hibernating palate with gusto!
Check out our list of spring beers to enjoy starting ASAP!
Infused with the classic flavors of lime and blue agave nectar, this tart gose-style beer is light and refreshing. The bright lime flavor helps wake up the palate while the mild sweetness of the agave rounds out the tangy zip of the citrus fruit.
Fruit-Full Fort is brewed with four types of berries – raspberry, blackberry, boysenberry and elderberry! This Dogfish is dark maroon in color and swirling with notes of velvety cherry and berry sweetness for a full-bodied and full-flavored experience.
In Mexico, agua fresca is everywhere. They're usually found in street food markets and feature a blend of seasonal fruits. New Belgium's cerveza takes inspiration from agua frescas and features hibiscus, agave, watermelon, and lime for a refreshing, vibrant sip.
Bell's Oberon is a refreshing wheat beer with spice and fruit balanced to perfection in a mercifully low-ABV tribute to springtime drinkability. Their signature house ale yeast allows this beer to be made without adding any spices or fruits.
Montucky Cold Snacks offers up the perfect spring snack. A 4 percent ABV lager that drinks better than most macro lagers and is priced on par. Just a good old fashioned tasty American beer that goes down in quantity.
Hoppy and refreshing, Wolf Pup is Golden Road's take on a session IPA. Highly drinkable with a wildly aromatic tropical character, it's the perfect companion to keep on sippin' for those longer spring days.
Meyer lemons are hand peeled, cut, and barrel aged with their 85% white wheat farmhouse hefeweizen base, blondine. After pressing off the fruit 3 times the beer is blended back together with the zest of the Meyer lemons and a handful of fresh cracked Tellicherry pepper.