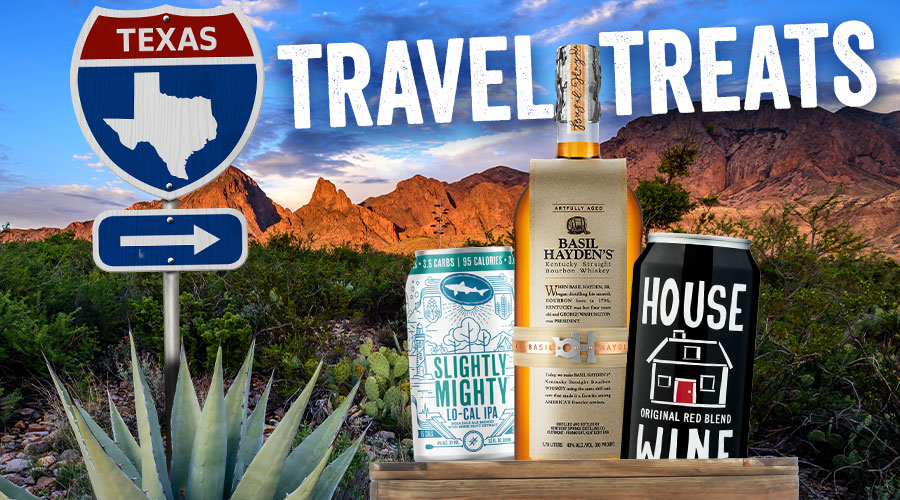 You don't have to fly to some exotic location to enjoy a much-needed summer vacation! With a state as big as Texas, there's plenty to do all within a day of travel!
Check out some of our favorite summer spots in Texas and be sure to hit up Spec's on your way for everything you'll need to have a great time!
New Braunfels
New Braunfels is known for being a city that loves to have fun on its rivers. With two rivers to choose from, and plenty of tubing companies for each, you could spend a whole weekend here and still have new routes to visit when you return. Depending on where you decide to tube, there may be a can ban in effect, so do your research beforehand so you can properly stock up at Spec's!
Dogfish Head Slightly Mighty IPA – With a low ABV of just 4%, this tasty beer from Dogfish Head is perfect for not over doing it while on the river!
Pair it with Spec's Select Cinnaberry Trail Mix to keep you heading down river in delicious style!
Big Bend
Located about 7 hours from Austin, Big Bend National Park is a true Texas gem. It's too big to try and see it all in one day (it's bigger than Rhode Island) but there are multiple camping sites throughout as well as a hotel in the park. The Ross Maxwell Scenic Drive will give you fantastic views of the Chihuahuan Desert landscape and will lead you to the banks of the Rio Grande. At the end of the road is a highlight of the trip; a short walk into Santa Elena Canyon—one of Big Bend's most scenic spots and an easy 1.4 mile round-trip hike.
House Wine Red Blend – Nothing helps ease you off your feet after a day of hiking like a nice glass of red wine! This red blend comes in a can for extra convenience and ease of use around a campfire!
Pair it with Belgioioso Italian Cheese Board for a delightful treat!
Lower Laguna Madre
With miles of shallow, calm water in the Lower Laguna Madre and strong winds coming off the Gulf of Mexico, South Padre Island is a windsurfer's paradise. Additionally, kiteboarders, surfers, ​and anglers all find plenty of reason to spend time on this narrow bay between Port Isabel and South Padre Island. ​
Skinnygirl Pina Colada was made for this! All you have to do is chill, open, and serve up some awesome tropical goodness!
Pair it with some chips and Picklemash Salsa for a salty balance to the sweet pina colada!
Devil's River State Natural Area
Located just north of Del Rio on Texas' famed Devil's River, the Devil's River State Natural Area offers a variety of outdoor activities in a remote setting. Canoeing, kayaking, mountain biking, hiking, fishing, swimming, and camping are just a few of the adventures you can get into.
When you finally manage to sit down, a nip or two of Basil Hayden Bourbon paired with some salted redskin peanuts hits the spot!
Barnwell Mountain Recreation Area
The Barnwell Mountain Recreation Area covers 1,850 acres of well-signed trails for off-road vehicle enthusiasts to enjoy. Located in Gilmer, TX, the park was designed with off-roading in mind and features different levels of difficulty allowing beginners to hone their skills before moving up. It is maintained by the Texas Motorized Trails Coalition and features camping grounds, shower facilities, and bunkhouse and cabin rentals. You can enjoy a few days here trying out some of the most scenic off road Jeep trails in Texas.
When you've been driving hard all day, a hard seltzer can help lighten the load around the campfire! Try it with a mozzarella, prosciutto, and basil leaves roll.