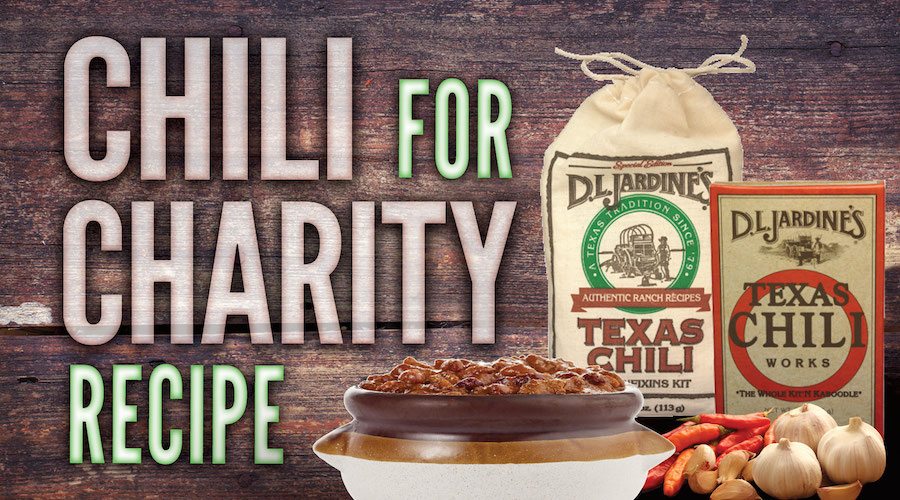 Chili & Charity – A Recipe for Success!
Don't let this perfect chili weather go to waste; make some great chili for some great kids! During the month of November, a portion of the proceeds from every Jardine's Chili Kit sold will go to to the Hays County Special Education Program. Just pick up your Jardine's Chili Kit at Spec's and start filling bowls and warming hearts!
1 Jardine's Chili Kit
1 lb ground beef, 80/20
1 lb ground pork
13 ¾ oz Jardine's 5-Star Rub
½ cup red onion, chopped
2 poblano peppers, roasted, peeled, seeded & chopped
½ cup bell pepper, chopped
16 oz your favorite beer
16 oz Jardine's Black Bean Chipotle Salsa
15 oz can tomato sauce
15 oz can black beans, drained
1 cup frozen corn
In large stockpot, sear ground beef and pork, and season with 5-Star rub. Cook until brown. Remove meat from pot, and place in large bowl. Sauté chopped red onions, poblano peppers and bell peppers in stockpot using fat from meat. Once vegetables are caramelized, add meat back to stockpot. Gently stir in your favorite beer, black bean chipotle salsa and tomato sauce. From your chili kit, slowly add red peppers to taste. Remember, the more you add, the hotter it will be! Stir well.
Cover the pot and bring to a boil, then reduce heat. Simmer for 1 hour or until meat is tender, stirring occasionally. About 30 minutes before the chili is ready, stir in the black beans and frozen corn. If you want your chili a little thicker, mix the masa from the kit with enough water to form a pourable mixture, and stir into chili until it reaches desired consistency.
Simmer for 20-30 minutes and ENJOY!