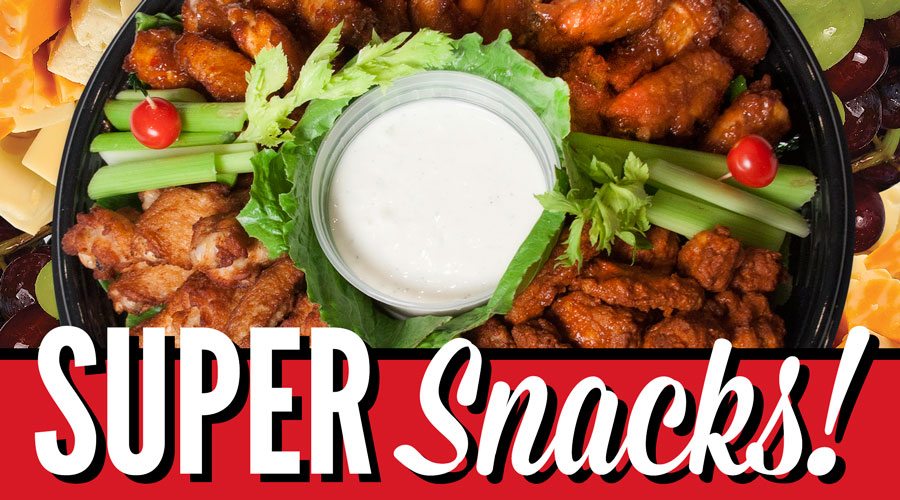 Here's one football statistic you won't see on a scoreboard. Super Bowl Sunday is the second-biggest day for food eaten in America—only Thanksgiving beats it for non-stop noshing!
Want an unbeatable strategy for keeping ravenous fans happy? Feed them early, feed them often and feed them well! Since Spec's is THE seasoned pro with a stadium-sized variety at all-star savings, count on us to coach you well in sacking the snacks. Ramble up and down our long-yardage aisles for thousands of options and we'll make you the season's "Champ of Chomp!"
Don't forget—you can always bring in fresh talent in the form of our amazing party platters, like the ones listed below!
Crispy Chicken Tenders
Talk about crunch time! Tasty tenders served with carrots, celery, cherry tomatoes & ranch dressing.
Hye Rollers
Put some "hye" snaps into your snack rotation with tender rolls stuffed with pimento cheese, and ham and turkey. Served with lettuce and tomatoes.
Wings
These wings span all the flavors! Includes original, BBQ, buffalo and sweet chili wings served with carrots, celery, and ranch dressing.
Sliced Meat & Cheese
A great call for your spread formation! Ham, turkey and roast beef with cheddar cheese and Swiss cheese. Served with grapes and seasonal berries.
Cubed Cheese & Fruit
Square off with the best! Pepper jack, cheddar, Colby and Swiss cheese cubes with grapes and seasonal berries.
Orders for the Super Bowl must be made at least 6 hours in advance, and picked up by 9pm Sat., Feb 6.