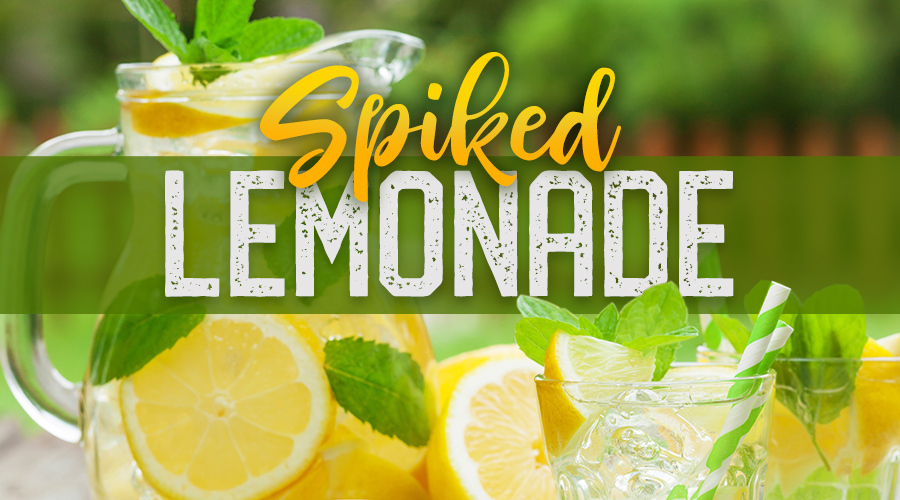 Adult Lemonade Stand – Lemonade Cocktails
Nothing says summertime like lemonade! And seeing as we're adults now, we've decided to upgrade the lemonade stand into a bar of delicious refreshment!
So, whether you're a devotee to grandma's secret lemonade recipe or just happen to have a tub of lemonade powder sitting around, we've got some sweet recipes to beat back the heat.
Classic Spiked Lemonade
Ingredients
1 cup vodka
2-1/4 cups sugar
5 cups water, divided
1 tbsp. grated lemon zest
1-3/4 cups lemon juice
6 to 8 cups ice cubes
Lemon slices for garnish
Directions
In a large saucepan, combine the sugar, 1 cup water and lemon zest. Cook and stir over medium heat until sugar is dissolved, about 4 minutes.
Remove from the heat. Stir in lemon juice and remaining water.
Pour into a 2-qt. pitcher; refrigerate until chilled.
Stir in vodka.
For each serving, place 3/4 to 1 cup ice in a Collins or highball glass. Pour lemonade mixture into glass.
Garnish with lemon slices and enjoy
Fireball Pink Lemonade
Ingredients
Directions
Pour the lemonade, Fireball and 1 tbsp. grenadine into a large pitcher.
Stir and taste, adding grenadine until you reach the desired color/flavor you'd like.
Fill mason jars or other glasses with ice.
Pour in pink lemonade, and garnish glasses with a slice of lemon.
Rosé Lemonade
Ingredients
Directions
Pour all ingredients over ice and stir.
Blueberry Vodka Lemonade
Ingredients
1 bunch fresh mint leaves
2 tbsp. sugar
1 cup blueberries
1/2 cup blueberry vodka
2 cups lemonade
Ice
Directions
Place mint leaves, sugar and blueberries in a cocktail shaker.
Muddle mixture with the end of a wooden spoon until blueberries are broken.
Add vodka and ice; shake vigorously for 30 seconds.
Divide mixture among two tall glasses. Top with each with lemonade; stir.
Garnish with blueberries, mint and lemon slices.
Frozen Coconut Lemonade
Ingredients
1 1/2 cups ice cubes crushed
3 tbsp. frozen lemonade concentrate
2 tbsp. coconut rum
Lime wedge for garnish
Directions
Place ice, concentrate, and rum in a blender; blend until slushy.
Garnish with lime wedge and enjoy!
Vodka Pear Lavender Lemonade
Ingredients
1 pear, juiced
2 oz. vodka
2 oz  lemon juice
2 oz  water
0.75 oz  lavender simple syrup
pinch of salt
1 cup sugar
1 cup water
10-12 stalks fresh lavender or about 1/4 cup dried
Directions
Juice pear and strain any pulp.
Combine all remaining ingredients into a shaker and shake.
Strain into a tall glass with ice.
Frozen Jalapeño Lemonade Margarita
Ingredients
¾ cup tequila
½ cup triple sec
½ cup freshly squeezed lemon juice
1 cup Jalapeno Syrup (see below)
ice
fresh jalapeno slices for garnish
Lemon wedges
Sugar for the rim
Jalapeno Syrup, makes 1 ½ cups
1 cup sugar
1 cup water
2 jalapeno peppers, minced
Directions
To make the syrup: Combine the sugar and water in a small pot and bring to a brief boil over medium heat.
Transfer the syrup to a blender and add the jalapenos. Blend until smooth. Transfer to an airtight container or mason jar. Refrigerate for up to 1 week.
To make the margaritas: Rim 4 glasses with a lemon wedge and then dip them into a dish filled with sugar. Upright the glasses and fill them with ice.
Fill a blender with the tequila, triple sec, lemon juice and 1 cup of the Jalapeno syrup, plus tons of ice. Blend on high and pour the margaritas into the prepared glasses.
Garnish with fresh jalapeno slices if desired and serve.
Lemonade Rum Punch
Ingredients
Directions
Pour lemonade, pineapple juice and coconut rum into large glass filled with ice, using a spoon to gently stir the drink.
Top glass with the dark rum, so it floats on top and slowly blends into the rest of the drink, giving it an ombré effect and serve.
Icy Whiskey Lemonade
Ingredients
6 oz. whiskey
7.5 oz. lemonade
2 tbsp. sugar
1 splash of orange juice
Directions
Combine all of your ingredients in a blender full of ice.
Pour it into a tall glass, garnish with a lemon wedge and serve with a straw.