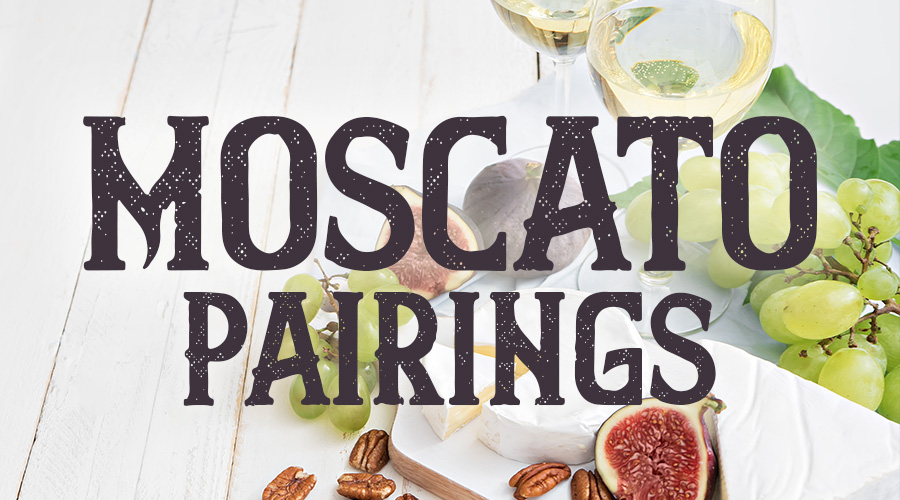 Meals for Moscato – Moscato Pairings
Moscato, famous for its sweetness, is made from one of the oldest wine grapes in the world – Muscat Blanc.
Typical Moscato flavors include: Meyer Lemon, Mandarin Orange, Pear, Orange Blossom, and Honeysuckle.
But did you know that there are 5 types of Moscato wine?
Sparkling & Semi – Sparkling Moscato – the most common type
Still Moscato – made with Muscat Blanc grapes but also other Muscat varieties, like Muscat of Alexandria.
Pink Moscato – made with mostly Muscat grapes and usually a dollop of Merlot to give it a ruby pink color and light strawberry taste.
Red Moscato (aka Black Muscat) – made from a rare Italian red grape called Schiava and Muscat of Alexandria. Imagine raspberry, rose petals and violets.
Moscato Dessert Wines – The sweetest of the Moscato varieties.
Foods that pair wonderfully with Moscato include:
Meat Pairings
Pork Tenderloin, BBQ Pork, Chicken, Turkey, Duck, Shrimp, Crab, Lobster, Halibut, Cod
Spices and Herbs
Cinnamon, Cardamom, Cayenne Pepper, Clove, Ginger, Chili Peppers, Cilantro, Cashew, Galangal, Basil, Lime, Mint, Shallots, BBQ Sauce, Teriyaki, Sweet and Sour, Orange, Marjoram, Peanut
Cheese Pairings
Medium to firm cheeses will pair excellently. Try sheep and cow's milk cheeses.
Fruits & Vegetables
Mango, Pineapple, Orange, Carrots, Celery, Fennel, Red and Yellow Bell Pepper, Green Onion