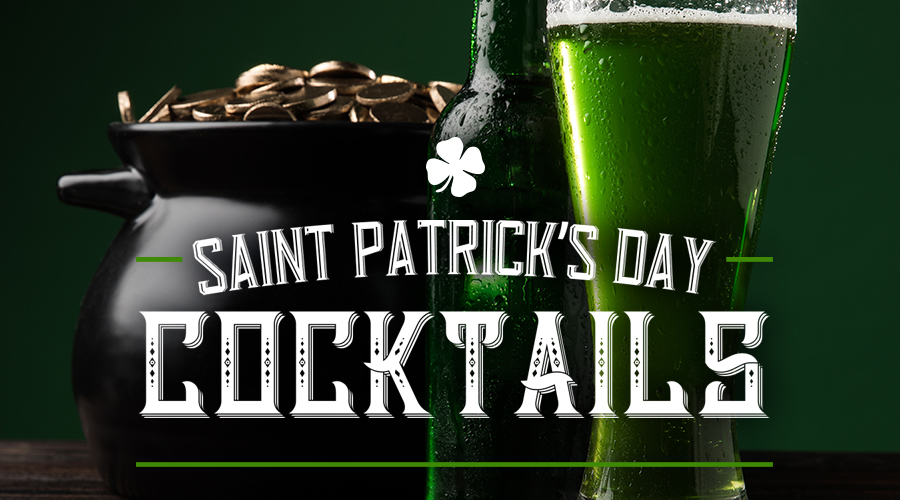 St. Patrick's Day Cocktails
Saint Patrick's Day has a rich history that runs through the culture of Ireland as St. Patrick is the patron saint of the Emerald isle. Born in Roman Britain in the late 4th century, he was kidnapped at the age of 16 and taken to Ireland as a slave. He escaped but returned around 30 years later to convert the Irish to Christianity.
But let's be honest, here in America St. Patrick's Day has basically just become an excuse to wear green, put on green head ware, and, most importantly, consume lots of green drinks. Green beer is the predominate beverage of choice on this day, but there's a limit to the amount of sage-colored suds one can consume. Luckily, we've put together a collection of our favorite St. Patrick's Day cocktails, green or not, for you to whip up on March 16th!
Shamrock Juice
Ingredients
½ oz gin
½ oz white tequila
½ oz light rum
½ oz vodka
1 oz Blue Curacao
4 oz fresh squeezed orange juice
Directions
Fill a hurricane or parfait glass with ice.
Pour in the liquors and top off with the orange juice.
Garnish with an orange wheel and cherries.
Irish Float
Makes 2 servings
Ingredients
Directions
Scoop three scoops ice cream each into two tall glasses.
Pour 1 cup Guinness and 1/4 cup Baileys over each serving.
Drizzle with chocolate syrup and serve immediately.
Green Beer
Ingredients
1 light beer
Green food coloring
Directions
Pour beer into glass. Add as much food coloring as desired and stir to mix.
Irish Mule
Ingredients
2 oz Irish whiskey
6 oz ginger beer or more!
juice of half a lime about 1 ounce
lime slices optional, for garnish
mint sprig (optional for garnish
ice
Directions
Fill a copper mug (or other glass) with ice. Pour in whiskey and lime juice, top with ginger beer.
Stir to mix, garnish with lime slices and mint sprig.
Emerald Rain
Ingredients
Directions
Shake all the ingredients together thoroughly in a shaker with ice.
Serve this drink in a chilled cocktail glass.
The Nutty Irishman
Makes 2 servings
Ingredients
Directions
Pour the Whiskey, Frangelico, Bailey's and Kahlua into a coffee mug and stir.
Pour the coffee into the mug and top with whipped cream. Decorate with sprinkles, if desired.
Pot o' Gold Shooters
Makes 16 shots
Ingredients
1 (3.4-oz) package lemon or pineapple Jell-O
4 oz cold whiskey
1 cup Cool Whip
Gold sprinkles
6 rainbow candy belts, cut into 2-inch pieces
Directions
In a small saucepan, bring 1 cup water to a boil. Add Jell-O mix and stir until dissolved. Turn off heat and stir in ½ cup more water and the whiskey.
Place 16 plastic shot glasses on a baking sheet and pour in mixture until each is two-thirds full.
Refrigerate until set, about 2 hours.
Top each with a dollop of Cool Whip and gold sprinkles. Place a rainbow candy belt on top, forming it into a semicircle like a rainbow, before serving.
Lucky Charms Shooters
Makes 8 servings
Ingredients
1 cup cold whole milk
1 cup Lucky Charms cereal, divided
8 oz Bailey's Irish cream, chilled
1 tbsp. rainbow sprinkles
¼ cup vanilla frosting
Directions
Pour ½ cup Lucky Charms into milk and let sit in the fridge for 10 minutes to infuse milk with the cereal's sugary flavor.
Strain out cereal, pouring milk into a pitcher. Add Bailey's to the cereal milk, stirring to combine.
Remove 8 marshmallows from the remaining Lucky Charms. Set aside. Take the rest of the cereal and crush finely, pouring it out onto a plate and mixing with sprinkles.
Dip shot glasses into vanilla frosting, then roll in crushed cereal.
Fill each drink with Bailey's-infused milk and serve.
Baby Guinness Jell-O Shooters
Makes 15 servings
Ingredients
Chocolate Guinness jello shot:
Bailey's jello shot:
Directions
Chocolate Guinness jello shot:
Add Guinness to a medium bowl, sprinkle on both envelopes of gelatin, and allow to sit for one minute.
Stir in Patron, creme de cacao and hot water until the gelatin is completely dissolved.
Evenly divide the chocolate Guinness jello shot mixture into individual shot glass cups and refrigerate immediately for 15-20 minutes.
Bailey's jello shot:
Once the Guinness portion has chilled, add the Bailey's Irish Cream to a medium bowl, sprinkle on the packet of gelatin, and allow to sit for one minute.
Pour hot water into the Bailey's jello shot mixture and stir until the gelatin is completely dissolved.
Gently pour the Bailey's jello shot mixture over the chilled Guinness mixture.
Refrigerate for 3 hours or until completely set.