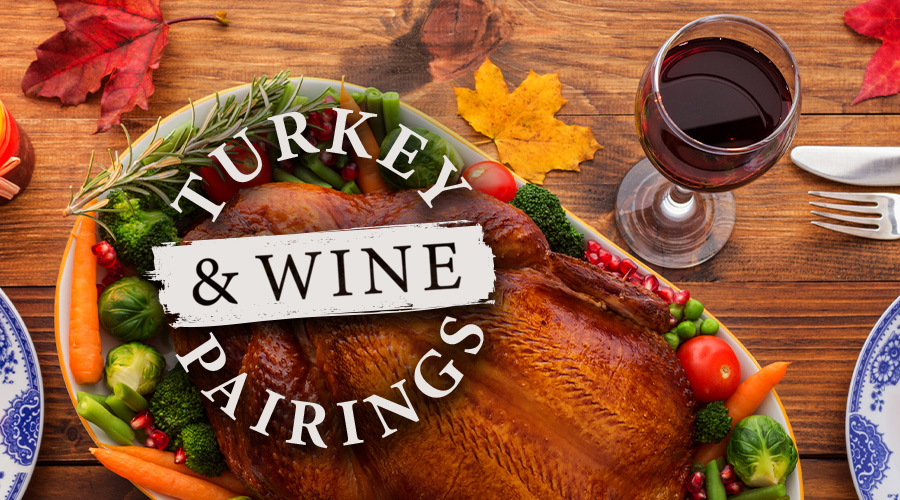 Pairing wine with Thanksgiving turkey doesn't have to be a stress-inducing struggle every year. Instead of trying to find the perfect wine for a large bird with a variety of flavors, we suggest you curate a selection that can be applied to specific parts or enjoyed with the entire meal. For a nice balance to your selections aim for lighter reds and heavier whites. But the best suggestion for wine pairings is to choose something you enjoy!
Checkout our top 5 turkey and wine pairings and get ready to be thankful!
Sparkling
A light sparkling white is an excellent way to kick off your Thanksgiving meal. It acts as a palate cleanser to prepare you for the celebratory feast to come, and it's delicious! Champagne goes particularly well with a deep-fried turkey as it offsets the crispiness of the skin and brings out the grassy, herbal flavors of the bird.
Pinot Noir
Pinot Noirs are a great option because they not only have great fruit flavors but enough acidity to stand up to the salt and acids found in many of the Thanksgiving dishes. For a lighter fruit-forward profile choose a new world Pinot Noir; for a richer palate experience go for an old world Pinot Noir from France's Burgundy region.
Chardonnay
A lighter unoaked Chardonnay offers fresher fruit flavors and retains more of its food friendly acidity compared to the bolder oaky styles. The grassy flavors of Chardonnay help to highlight the herbaceousness of your basting mix or even the stuffing.
Beaujolais
Beaujolais is a young wine that's light and high in acidity, making for a distinct and pleasurable wine for your turkey. A Beaujolais Nouveau is a light and fruity version that's low in alcohol and high in flavor making it perfect for any style of turkey.
Zinfandel
Zinfandel's fruit profile and body pairs exceptionally well with turkey; both dark and light cuts. If you want a red with a little more energy than Pinot Noir, a good Zin is a great choice.