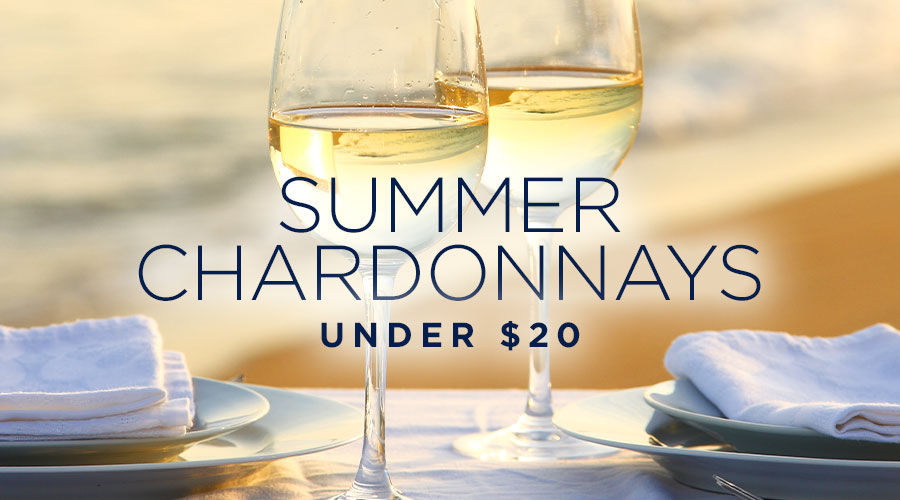 5 Summer Chardonnays Under $20
Nothing beats a glass of chilled white wine for breaking up a summer's day! If Chardonnay doesn't come to mind as your go-to summer white, we're about to change that.
The Chardonnay is one of the six noble grapes, and one of the most popular wines in the world. There are two kinds of Chardonnay, oaked and steel-aged. True to the style of a steel-aged wine, the taste is more minerally with tart fruits like citrus and apple.
Unlike rich and heavy oaked Chardonnays, a steel-aged Chardonnay is going to have very distinct characteristics: bright, tangy, and acidic, with fruit flavors that resemble those qualities like citrus fruits and apples, and a minerality that brings a crispness to the wine.
Below are five steel-aged Chardonnays that will brighten up your palate with fresh fruit and a citrus zing, perfect for lazy summer days.
Light and fresh with vibrant tropical fruit citrus and pear notes featuring layers of melon, fig, and a touch of honey.
Open with a nose full of citrus and stone fruit that leads to a palate rich with melon, lush green apple, and lime.
Aromas of ripe tropical fruits, pineapple, and ripe melon with hints of butterscotch. A medium body that tastes of ripe stone fruit, butterscotch, and citrus.
This white wine has full flavors, succulent acidity and a mineral-driven finish. It pairs well with roasted chicken, fresh crab, soft cheeses or creamy pasta. Best enjoyed chilled.
A nod to a classic California Chardonnay. Elegant and expressive with bright fruit character. The fruit is beautifully complemented with toasted oak vanilla and hints of crème brûlée with a balanced and elegant finish.