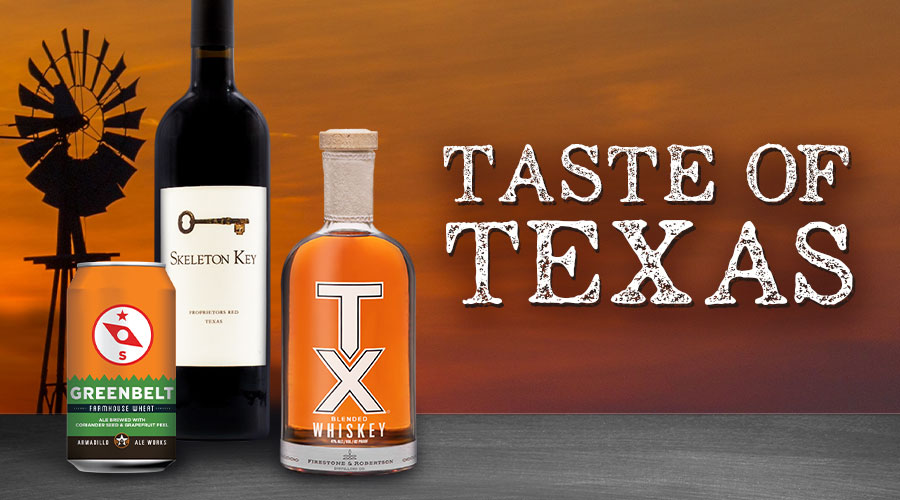 A Taste of Texas – Wines, Spirits & Beers From The Lonestar State
As a Texas family-owned business, Spec's makes a point to bring you the latest and greatest made-in-Texas items! We develop special relationships with Texas wineries, distilleries, and breweries to ensure our shelves are stocked with Texas-made items. Supporting local businesses like our own is just one of the many ways Spec's puts Texas first!
Join us on a tour of some tasty Texas towns with a collection of local favorites from across the Lone Star State.
William Chris Vineyards boast a majestically restored Dieke family farmhouse, and they offer barrel tastings, live music, and true Southern hospitality. Their wine uses 100% Texan grapes in varietals such as Cabernet, Sauvignon, Merlot, and Mourvedre.
This blended red from Hye, Texas is dark and earthy accented by blue and black fruits and nice acidity, notes of cassis, marionberry, and baking spices on the nose leading into leather, black raspberry, and earth with well-integrated tannins that lend structure and a long finish.
Leonard Firestone and Troy Robertson founded the Firestone & Robertson Distilling Co., the first craft bourbon and whiskey distillery in North Texas.
This award-winning blended whiskey is a beautiful auburn color with notes of vanilla bean, oak and pear. Its bold flavors of honey butter, banana, caramel and coffee make for a smooth and long finish. To cap things off, each bottle cap is handcrafted using repurposed Texas leathers from donated cowboy boots.
Sun City Distillery is located downtown in the heart of El Paso, Texas. They are the city's first and only small batch micro-distillery. Although the distillery doors just opened in 2020, their distillers have been creating and experimenting with recipes and batches for over seven years and have over twelve years of distilling and rectifying experience under their belts.
Acere is a Cuban word that quite literally refers to an assortment of smelly monkeys. They chose the name because Gin is a spirit that is made up of an assortment of smelly botanicals.  Acere is not a light Gin, it is packed with flavor and is a respectable 92 proof. They use the re-distilled method for Acere , as they felt like this gave them the most flavor and the best results with their botanical bill. The botanical bill consists of juniper berries, lemon zest, grains of paradise, Orange Zest, Angelic Root, Cinnamon Spice, Coriander, Cardamom and Licorice Root.
Founders Yianni Arestis and Bobby Mullins started Armadillo Ale Works back in 2010 with a dream of opening a craft brewery in Denton, TX. Their journey from conception to fruition was long and unconventional, but after 8 years, Armadillo Ale Works opened its doors in 2018. Every drop of Armadillo Ale Works beer is brewed on-site and housed in an old railway grain warehouse constructed in the early 1900s. From beer to hard seltzers to sodas, if they can brew it, they will do it! Additionally, they house Cultivar Coffee Roaster beans for craft java beverages.
Their award-winning Greenbelt Farmhouse Ale is an American-Belgian-Weizen hybrid named for the Greenbelt Trail in Northeast Denton. The crisp citrus flavors shine bright in this light-golden brew; a refreshing match for whatever trail you're on.