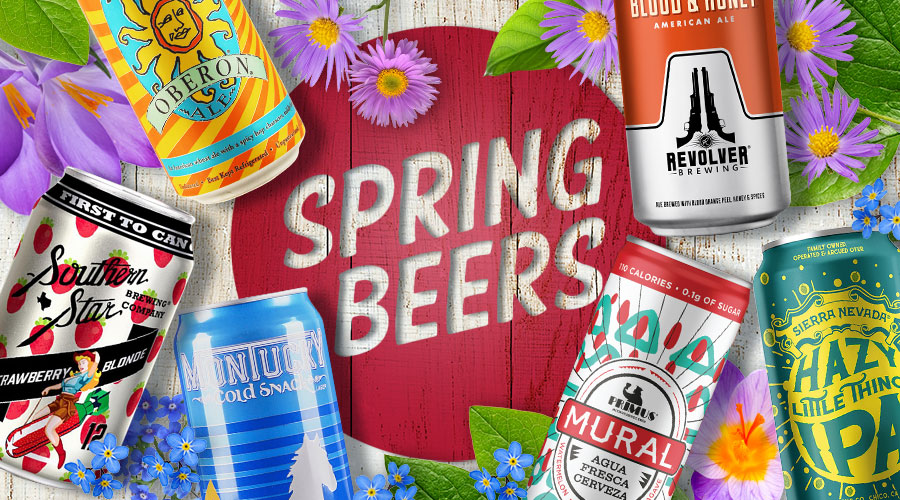 It's officially springtime! And more importantly, winter is done trapping us inside! We are also moving away from winter's dark, thick beers that kept us full and warm during the cold season. Lighter spring beers are here to refresh your hibernating palate! Check out our list of spring beers to enjoy starting ASAP!
Best Spring Beers
Sierra Nevada chills their fermenters at slightly higher temperatures than normal so the haze doesn't fade, then they skip the filter to package all the hazy flavor in its prime. Juicy hops and silky malt meet in a Hazy Little Thing with fruit-forward flavor, modest bitterness, and a smooth finish.
New Belgium's cerveza takes inspiration from agua fresca and features hibiscus, agave, watermelon, and lime for a refreshing, vibrant sip.
Crisp and dry lager brewed to have just a touch of delicate strawberry making this a great late spring option. From the brewery that brought you Texas' most iconic blonde ale, this beer embraces the lighter, thirst-quenching side of the beer spectrum.
Citrus Blonde starts with blood oranges and Texas honey, then hopped with mandarina and citra, and finally fermented with blood orange puree for a robust citrus punch. At 4.5% this is the perfect all-day sipper!
Bell's Oberon is a refreshing wheat beer with spice and fruit balanced to perfection in a mercifully low-ABV tribute to springtime drinkability. Their signature house ale yeast allows this beer to be made without adding any spices or fruits.
Montucky Cold Snack offers up the perfect spring snack. A 4 percent ABV lager that drinks better than most macro lagers and is priced on par. Just a good old fashioned tasty American beer.