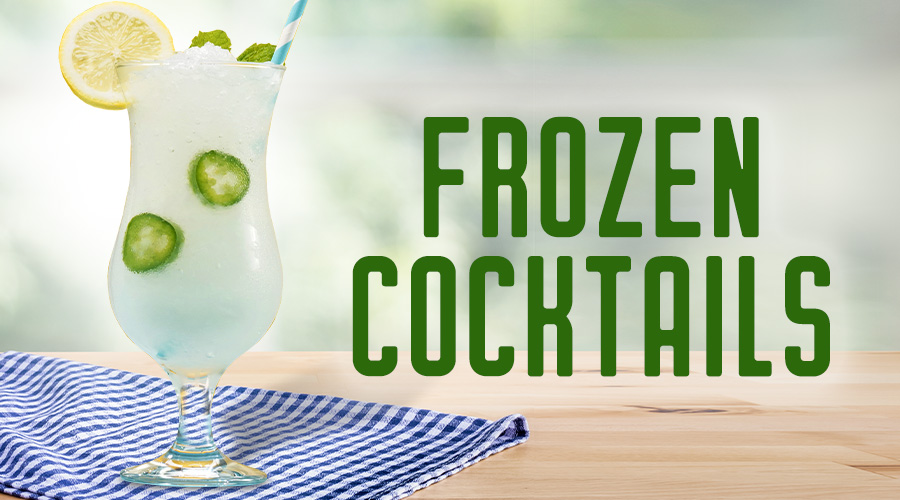 Cool Off With Frozen Cocktails
There's one summer staple that often gets overlooked – the blender. Without this magnificent machine how would we whip up the perfect frozen poolside sippers to help get us through another Texas summer?!
We've put together a list of some of our favorite frozen cocktails to give your blender a much needed workout. As delicious as these are, you might be tempted to suck one down with gusto, but be careful of their chilling side effect, the dreaded brain freeze! That being said, let's kick this off with some Jimmy Buffet wisdom:
But there's booze in the blender
And soon it will render
That frozen concoction that helps me hang on
Frozen Jalapeno Lemonade
This frozen jalapeño lemonade is a spicy icy delight!
Ingredients
Directions
Blend together vodka, lemonade, simple syrup, and ice until mixture becomes slushy.
Pour into a glass and garnish with a jalapeño and enjoy!
Frozen G&T
A refreshing twist on a refreshing classic
Ingredients
Directions
Squeeze the limes for the juice and slice about five ½ ″ thick pieces of cucumber.
Add all of the ingredients into a blender and blend until smooth.
Kick back and enjoy!
Frozen Coconut Pineapple Margarita
An easy and delicious frozen summer cocktail for a crowd!
Ingredients
Directions
Rub edges of margarita glasses with a lime wedge and dip in kosher salt to coat rims.
Pour piña colada concentrate, tequila, pineapple juice, lime juice and ice in a blender and blend until smooth. Split into double batches to accommodate the size of your blender pitcher, if necessary.
Pour into glasses, garnish, and serve immediately.
Strawberry-Kiwi Frozen Mojitos
As delicious as it sounds!
Ingredients
Directions
In a blender, combine the 1 ½ cups frozen strawberries, 1 ½ tbsp. simple syrup, 4 mint leaves, one shot of rum, and 1 ¾ cups of crushed ice (if you have whole cubes, crush them in the blender first). Blend until well combined and slushy-like.
Pour the strawberry mojito into 3 (8 oz.) glasses, filling halfway.
Rinse out the blender jug and combine the remaining 1 ½ cups chopped kiwi, 1 ½ tbsp. simple syrup, 4 mint leaves, shot of rum, and 1 ¾ cups crushed ice. Blend to desired consistency.
Pour the kiwi mojito over the strawberry mojito.
Garnish with kiwi, strawberry, and mint.
Serve immediately.
Raspberry Gin Slushie
A delicious, adult upgrade to the 7-11 masterpiece! Makes 6 servings, so bring friends.
Ingredients
Directions
In a blender, combine ice, sparkling water, gin, sugar, lime juice, and frozen raspberries. Blend until thick and smooth.
Serve immediately with straws and lime rounds.
Peach Coolers
Tastes like summer in the south!
Ingredients
Directions
Combine all ingredients in a blender.
Blend until smooth, stirring as necessary to break up frozen chunks.
Pour into chilled glasses and garnish with a fresh slice of peach (optional).
Enjoy immensely!
Coconut Orange Daiquiri
A backyard trip to the tropics!
Ingredients
Directions
Pour the honey or agave syrup on a small plate. Place coconut in a separate plate. Dip rim of glass in corn syrup, then in the coconut to coat evenly.
In a blender, blend ice, orange juice, rum, and cream of coconut until smooth.
Pour into rimmed glass and top with a maraschino cherry.