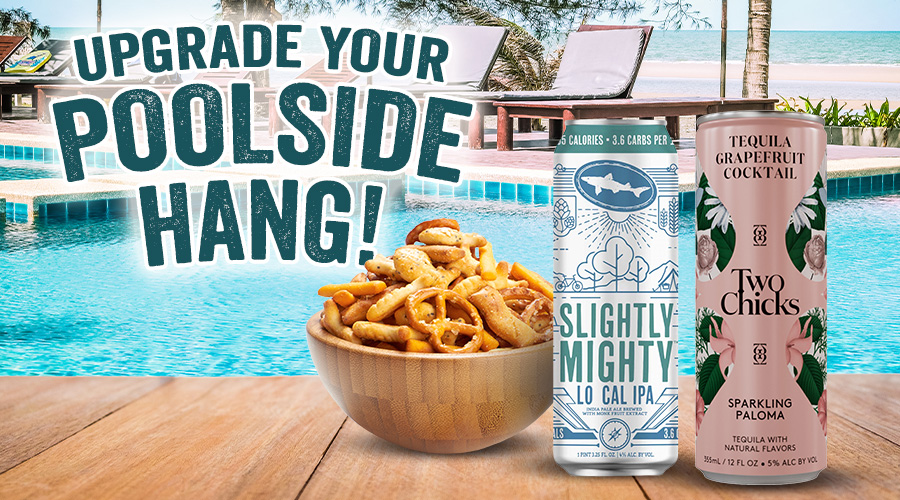 Pool Friendly Drinks For Summer
Whether it's a pool, river, lake, or the beach, water and a Texas summer just go hand in hand. But no matter how hot you get; glass bottles are a big no-no when it comes to keeping you cool in the water. With that in mind, we've put together a list of delicious refreshments that'll keep your summer wet and wild without the hazards of glass.
Not only are these all glass-free, but all the beers are lower in alcohol so you can get the most out of your time in the water! We even threw in some snackage so you don't have to give up your prime spot just to get some much needed grub.
Best of all – with Spec's Same-Day Delivery you can turn any day into a well-stocked outing with the click of a button!
Beers
Bell's Light Hearted Lo-Cal IPA – A low alcohol light beer that tastes like a full-flavored IPA! Light Hearted is aromatic, balanced, and incredibly easy-drinking. With an ABV of just 3.7%, this is the perfect poolside all-day IPA.
New Belgium The Purist Clean Lager – NB's Purist Organic Lager is brewed with only the most natural ingredients for a clean, crisp refreshing taste. With 95 calories and 3g of carbs, Purist is more than just an USDA Certified Organic beer—it's a beer crafted to make pool day last all day.
Dogfish Head Slightly Mighty IPA – Dogfish Head has been known for pushing beer boundaries since its inception 24 years ago, and their Slightly Mighty is no exception. By using monk fruit instead of sugar they've managed to craft a delicious world class IPA, with only 95 calories, 3.6g carbs, 1g protein, and cool by the pool 4.0% ABV.
Ready-To-Drink Cocktails and Seltzers
Canned cocktails and hard seltzers have evolved in recent years to become one of the most diverse subcategories of drinks that can be enjoyed from portable packaging. There are bartender-quality options alongside crushable drinks that pack a hefty punch in the flavor department.
Blue Marble Moscow Mule – This award -winning cocktail in a can is crafted with ultra-premium vodka, premium ginger beer, and all-natural lime juice for an extremely refreshing pool-friendly cocktail. Don't let it's petite 200ml size deceive you though, this little fella packs a wallop at 15% ABV.
Cutwater Cocktails Spicy Bloody Mary – This is not just a great canned cocktail, it's a fantastic Bloody Mary. The aromas are intense and inviting on the nose while the palate gets a rich, roasted tomato core; seasonings of savory celery salt; and a generous crack of fiery black pepper. Perfect for an early start to pool time.
Two Chicks Sparkling Paloma – This is a crushable canned cocktail and quite possibly the best packaged Paloma available. The profile of tequila shines through on the nose and palate, but without being overwhelming making it a truly refreshing option.
Snacks
Spec's has a great selection of gourmet snacks to keep you fueled up for the day! Like the sweet joy of our Cinnaberry blend, or the savory spice of our Cajun mix!
Need a little more than snacks? Check out our collection of mouthwatering party trays to keep everyone fed until bed!
Accessories
Whatever your poolside favorite is keep it cool with a Spec's Koozie and 22 quart cooler!
Worried about breaking a shot glass by the pool? We've got you covered with this Ice Shots Ice Tray!