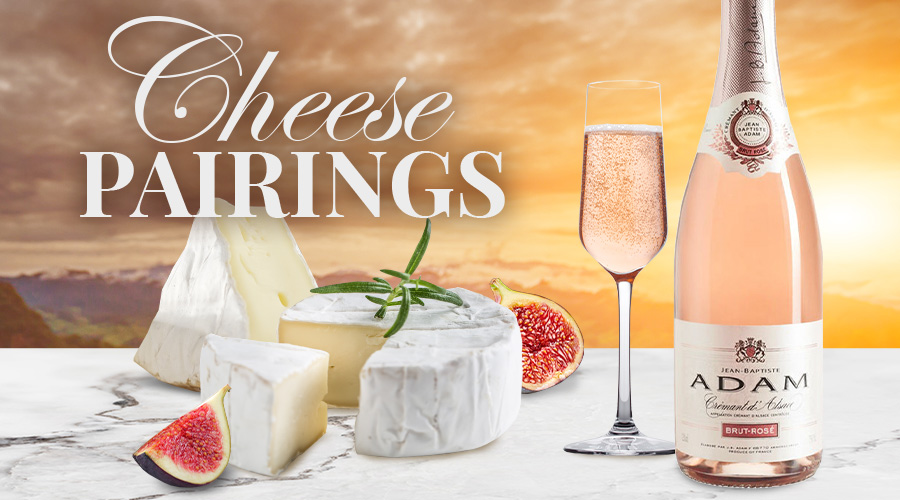 Delicious Cheese And Drink Pairings
When you think of pairing cheese with a drink, wine is usually the first to come to mind. And with good reason; cheese's high fat content tends to coat the tongue and dampen taste receptors to beverages, but the acidity of a well-paired wine can cut through this creamy barrier and unlock flavors of both itself and the cheese. But wine isn't the only beverage that does wonders with cheese!
Join us on National Cheese Lover's Day as we explore some interesting cheese pairings that'll have you falling deeper in love with cheese than you ever thought possible.
Sparkling Wine
A sparkling wine's refreshing effervescence pairs wonderfully with richer, fattier cheeses that coat the palate. An excellent choice is a double creme brie that's buttery and creamy with a full flavor, fruity and mildly tangy with an earthen mushroom note.
Try this Brut Rosé from Jean-Baptiste Adam with Joan of Arc Double Crème Brie
Riesling
Riesling is a food-friendly wine that ranges from super sweet to quite dry. Acidity, minerality, and aromas of tropical fruit are almost always present. Dry rieslings are an excellent pairing with a pungent cheese, while sweeter rieslings are best contrasted with bold-flavored cheeses like a punchy bleu.
Malbec
Malbec is a rustic wine that's inky, dark, and full-bodied with plenty of tannins. Fruity flavors of plums and berries are contrasted by spice and leather and work well with rich cheeses like gouda. Try this popular Argentina Malbec with a rich, aged gouda.
Gin & Tonic
A gin and tonic's light and bright flavors make it a perfect partner for fresh goat cheeses, while gin's soft herbaceousness plays well off an herb-coated chevre.
Bourbon
Aged in oak, Bourbon carries flavors like baking spice, honey, citrus, butterscotch, toast and smoke. Those attributes also make it a surprisingly good match with cheese. Try a smoked english cheddar with a small batch bourbon.
Cider
Apples and cheese have always paired well together, and this partnership carries over to liquid apples as well. Try a semi dry cider to match the creamy decadence of Cypress Grove's Herbs de Humboldt.