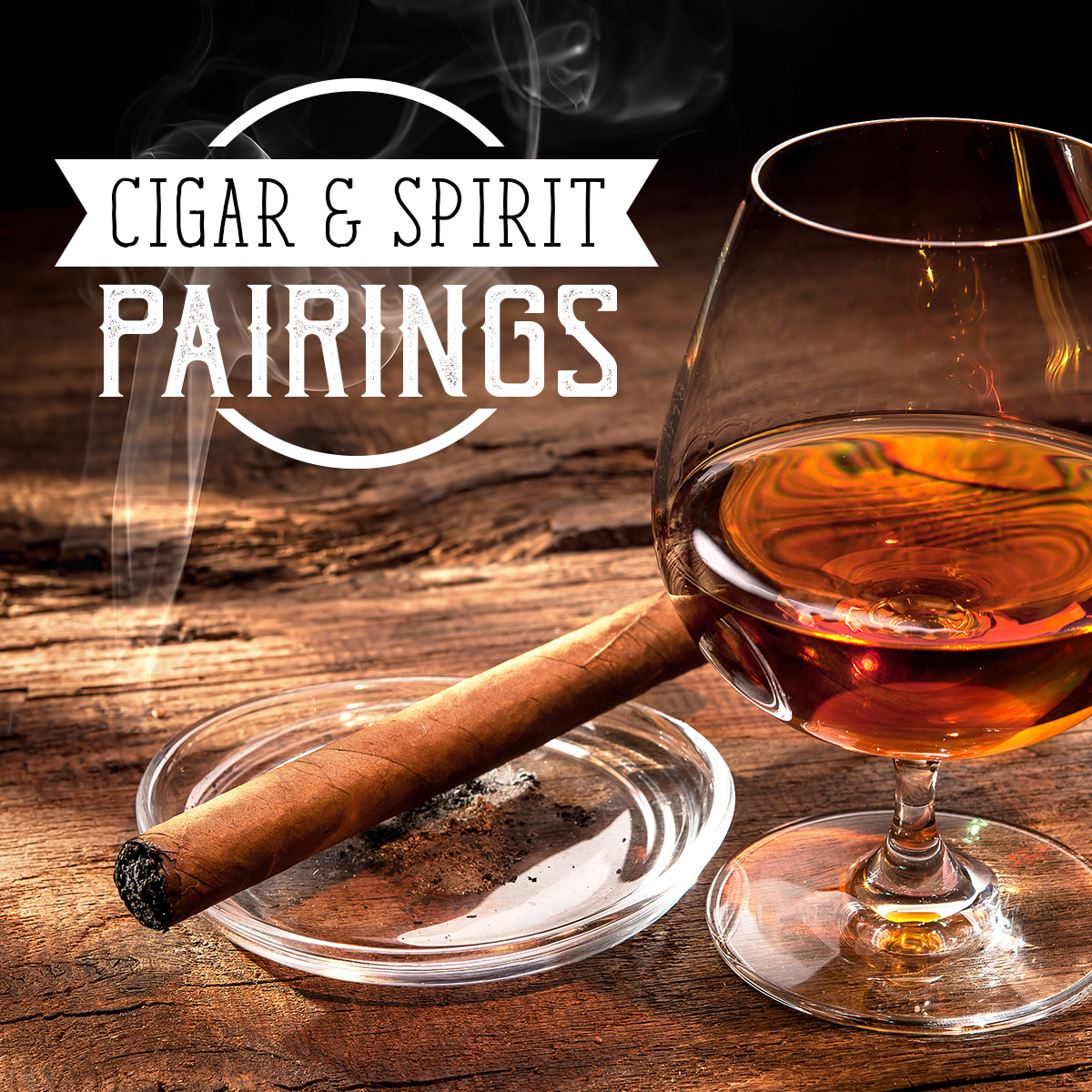 Easy Cigar & Spirit Pairings
"Shall we retire to the study for cigars and brandy?" You've heard this before in a movie and they always make it sound so relaxing, but what happens if you have no idea what you're doing when it comes to pairing a cigar with a fine spirit? Well, you either get it wrong and everyone notices, or you get it right and everyone notices. Either way, people are going to find out whether you know what you're doing or not and, depending on the company, judge you accordingly.
So, instead of fumbling around in the smoke-filled dark, why don't we retire to the study for a quick lesson on cigar and alcohol pairings?
The keys to a good pairing are pretty simple:
You want your cigar and alcohol flavors to be opposing flavors that balance each other and enhance each profile.
You don't want to pair similar flavors/notes together, as it can wash out the flavor profile and become a one-note experience.
Each puff of a cigar & each sip of liquor should be looked at as palette cleansers for each other.
Some things to keep in mind & avoid when pairing cigars and alcohol:
Flavor profiles that are too similar – if you have a smoke forward cigar, do not aim for a smoke-forward spirit.
Smoking on an empty stomach, especially for stronger bodied cigars
Nicotine exacerbates the effects of alcohol, so trying to go too fast can make you lightheaded & extremely sick. So, take it slow and enjoy the ride!
What type of liquor is NOT recommended to pair with cigars?
Bourbon, scotch, whiskey, rum, and tequila are the most popular for pairings, but really anything goes – so don't be afraid to be adventurous!
Best Pairings for Cigar Beginners
Prodomo Champagne 10th Anniversary + Aged Rum or Bourbon that has buttery & vanilla notes:
Romeo Julietta Reserva Royale + Rye Whiskey, Scotch, or Gin
Rocky Patel Vintage 1992 – soft, smooth, easy for all to enjoy
Pairs well with a Scotch or Peated Whiskey
Best Pairing for a Budget
La Traviata Cigars
Former Top 25 Cigars, and only cigar marketed for under $5 to make the list. Best paired with a value Rum or Bourbon with sweet & buttery flavor profiles
Best Pairings for BIG Flavor & Splurging
Liga Privada #9 or Liga Privada T52
Rarer cigars, produced in smaller batches
#9 has strong earthy notes with a sweet finish while the T52 has notes of cedar, leather, orange peel & acidity. Pair with Bourbon, Tequila, or Rum.
Best Paring for BIG Flavor & Feeling Adventurous
Hoyo La Amistad Black Label by AJ Fernandez
"Hits you like a Mack Truck" – NOT for the faint of heart! Combinations of sweet, spice, and bitter notes like pepper, coffee, earth, cedar, & cinnamon. Made with a rare Sumatran Oscuro Wrap made with a close-to-burning process when aging the leaf that produces big, bold, in-your-face flavor.
Pair with Rum, Bourbon, Scotch
Expert Recommended Pairings
Rocky Patel Maduro Paired with Aged Anejo Tequila
Laranja Reserva Corona Gerda Paired with Scotch
Montecristo Espada Ricasso Paired with Scotch