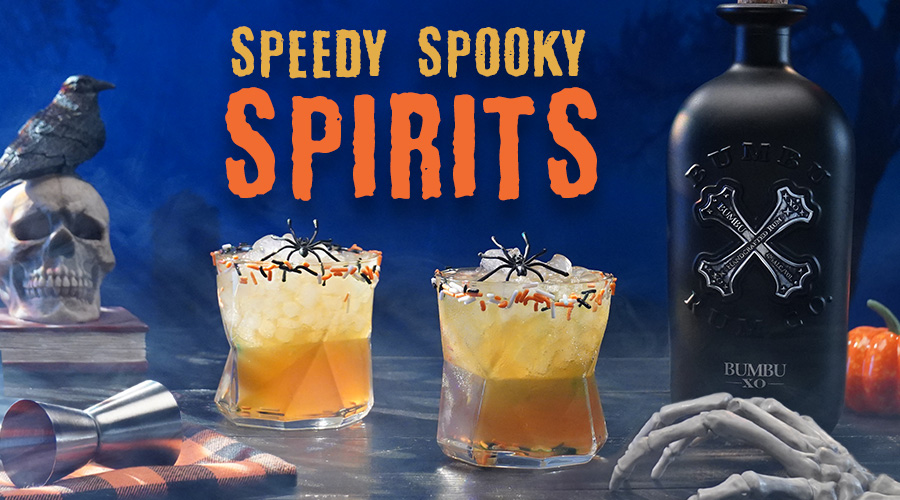 Speedy & Spooky Spirits – Easy Halloween Cocktails
When it comes to hosting a spooky soirée for Halloween, the last thing you want is to be stuck behind the bar making drinks all night! That's why we put together a collection of easy-to-make Halloween cocktails that'll have your guests impressed and you mingling with the rest.
Some of these are so easy you could just leave a little card by the bar instructing your guests on how to make their own!
Vampire's Kiss
Ingredients:
¼ cup pomegranate juice
1 ½ ounces Brother's Bond Bourbon
½ ounce raspberry liquor (Chambord)
juice from ½ a lemon
1 tsp. pure maple syrup, more or less to taste
pomegranate seeds, for serving
Directions:
Combine all ingredients in a cocktail shaker. Add ice and shake to combine.
Strain into a coupe glass. Add 1 ice cube and a handful of pomegranate seeds. Drink.
Melted Witch Martini
A festive Melted Witch Martini with Blue Curacao, vodka, fruit juices, and a Twizzler broom.
Servings: 1
Ingredients:
Garnishments:
Chocolate Twizzlers
Pull N' Peel Twizzlers
Halloween Sprinkles
Honey
Directions:
Make your witch broomstick by shredding the end of a chocolate Twizzler with kitchen scissors. You may cut an extra piece and tie it to the end for a thicker-looking bristle. Use a Pull N' Peel Twizzler to tie around the base of the broom as pictured.
Dip the rim of a martini glass in honey, followed by sprinkles until the rim is coated.
Make the cocktail:
To a shaker; add the vodka, blue curacao, orange juice, pineapple juice and a cup of ice.
Shake vigorously until cooled.
Strain into the prepared cocktail glass and garnish with a Twizzler broomstick.
Spider Cider Cocktail
Ingredients:
8 oz. apple cider
2 oz. Spiced Rum
½ tsp cherry extract
caramel dip
sprinkles
ice
Directions:
Dip the rim of your glass in caramel dip. Next, dip the glass into sprinkles. Mix liquids together. Pour over ice and serve.
Dracula's Blood Cocktail
Ingredients:
Directions:
Place rum, peach schnapps, black cherry juice, and Grenadine in a cocktail shaker with ice.  Shake for about 10 seconds to mix and chill.
Strain into a martini glass.
Drop in a set of plastic vampire teeth and garnish with a fresh or maraschino cherry, if desired.
Enjoy!
Ghoul's Guts Shots
Ingredients:
1 splash almond milk or your choice of milk
3 scoops vanilla ice cream
1 dollop whipped cream
2 oz. Creme de Cocoa 
1 mini un-iced vanilla cupcake optional if you don't want texture to the shots
simple syrup or honey for the rim
black sanding sugar for garnish
Directions:
Mix together all of the ingredients (almond milk, ice cream, whipped cream, Creme de Cocoa, and mini cupcake) and blend.
For the shot glass rim, dip these glasses in simple syrup or honey. Then, dip the rims in black sanding sugar. Make sure to cover all of the syrup or honey with sprinkles well so that it doesn't bleed too much into the ice cream.
Fill each glass and serve immediately.