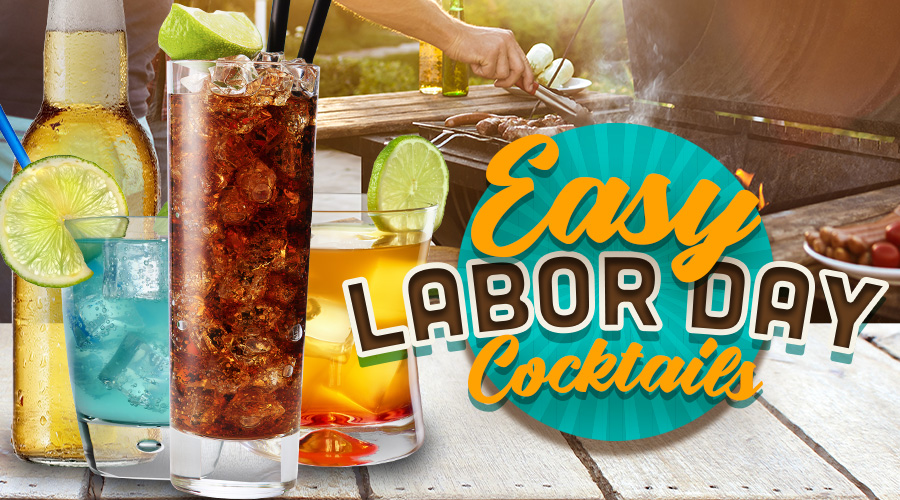 The last thing you want to be doing on Labor Day is labor. Known as the bookend of summer, you'll soon be reaching for a jacket instead of suntan lotion. So, we want you to get the most of out the last summer holiday. That's why we've put together a collection of "easy labor" cocktails so you can get back to the grilling and chilling with a drink in hand!
Ruby Radler
Ingredients
Directions
Drink about 2 oz. of the beer, then pour in the spirit.
Spicy Michelada
Ingredients
Directions
Drink (or pour out) about ¼ of the beer.
Pour the other two ingredients directly into the can.
Stir with straw or stirrer to mix.
Enjoy!
Bee's Knees
Ingredients
1½ oz. gin
1 tsp. honey
1 tsp. fresh lemon juice
Directions
Combine all ingredients in a shaker.
Shake, strain into a chilled glass and garnish with lemon twist
Caipirinha Cocktail
Ingredients
1 lime, cut into quarters
1–2 tsp. superfine sugar (to taste)
2 oz. cachaça
Directions
In a shaker, muddle fresh limes with sugar.
Add cachaça and ice cubes and shake vigorously.
Pour, unstrained, into a chilled glass.
Blue Chill
Ingredients
Directions
Add all ingredients to a tin and shake vigorously.
Strain over crushed ice into a hurricane or tulip glass and garnish with a cherry and orange slice.
Rye Smash
Ingredients
2 oz. rye whiskey
½ oz. fresh lemon juice
½ oz. simple syrup
mint
Directions
Muddle the mint and simple syrup in the bottom of a mixing glass.
Add ice, whiskey and lemon juice and shake until chilled.
Strain into a rocks glass over fresh ice.