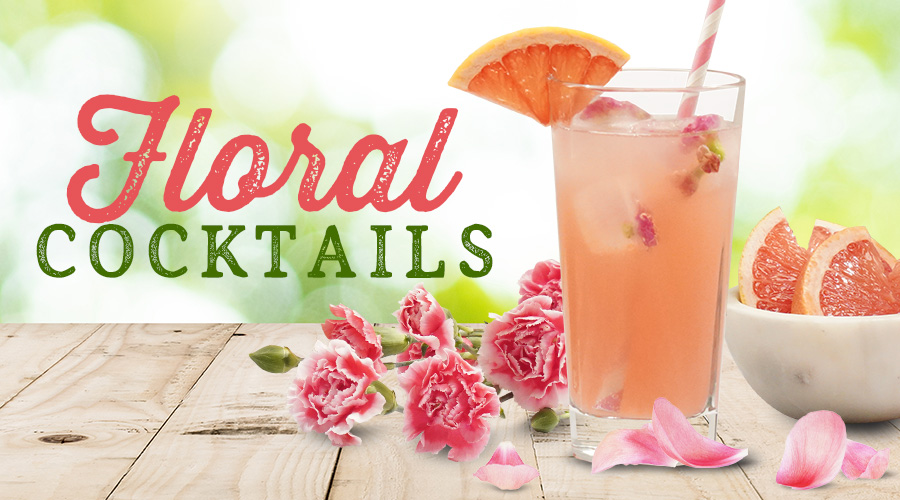 After a chilly winter nothing warms the heart quite like Spring's vivid flowers and fresh blooms! And we can't think of a prettier way to praise the petals than by adding them to a cocktail.
Floral cocktails are as delicious as they are beautiful, and we think they're the perfect way to welcome in the changing of the seasons! Check out some of our favorite floral cocktails and be sure to hit up your local florists for the pretty parts!
Aviation
Ingredients
Directions
Add all the ingredients into a cocktail shaker filled with ice and shake for a full 10 seconds.
Strain into a chilled cocktail glass.
Garnish with an edible violet and enjoy!
Rosé & Rye
Ingredients
Directions
Make the simple syrup: In a 1-qt. saucepan, stir the sugar with 1⁄3 cup water and bring to a simmer over medium heat. Cook, stirring, until sugar dissolves, about 2 minutes. Remove from the heat and stir in the rose extract. Let cool completely.
In a cocktail shaker, combine the whiskey, syrup, lemon juice, and bitters with ice. Shake vigorously, and strain into a chilled rocks glass. Garnish with rose petals.
Smoking Rose Paloma
Ingredients
2 oz. sotol
¾ fresh lime juice
¼ rose simple syrup*
garnish: grapefruit slice, rose petals
Directions
For the flower ice: Fill a glass ¼ of the way full of water. Add rose petals. Prop on its side in the freezer, making sure it doesn't spill. Let freeze completely before using.
Add all liquid ingredients except the grapefruit soda into a shaker and shake well.
Remove the glass from the freezer. Strain into the glass.
Top with the grapefruit soda and stir. Garnish with a grapefruit slice.
*Rose Simple Syrup
1 cup sugar
1 cup water
½ cup dried rose petals
Directions
Add all ingredients into a saucepan on high.
Bring to a boil and take off the heat.
Let cool while covered.
Double strain into a sealed jar.
Store in the fridge for up to one month.
Water Lily
Ingredients
¾ triple sec
¾ fresh lemon juice
¾ gin
Strip of orange zest, for garnish
Directions
Combine triple sec, crème de violette, lemon juice, and gin into a cocktail shaker filled with ice; shake vigorously and strain into a coupe.
Garnish with orange zest.