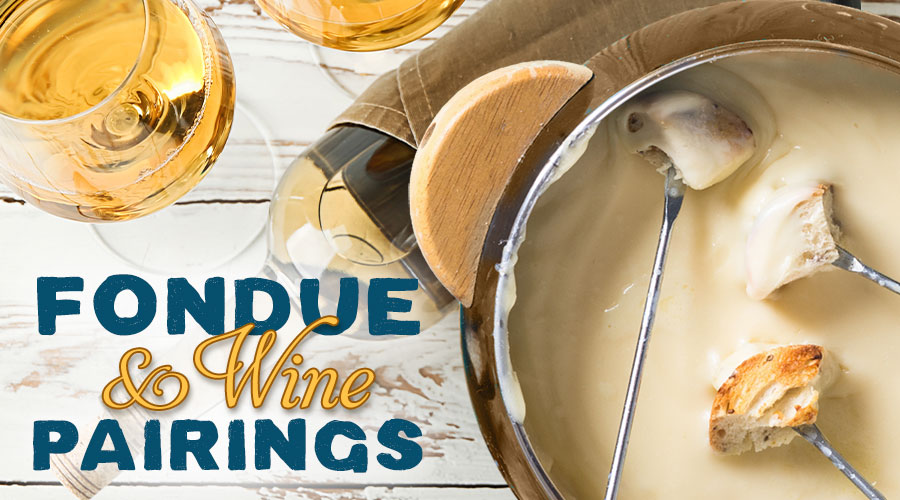 It's a fact: cheese is the ultimate comfort food. You can make any dish substantially better by just sprinkling some cheese on it! Heck, putting cheese on cheese is like doubling up on amazing! And when cheese is the main ingredient, you've got yourself a winner! No dish does more for cheese than fondue.
Fondue became popular centuries ago in Switzerland, where Gruyère, Emmental and Raclette cheeses were mixed with Kirsch (a kind of brandy distilled from the fermented juice of cherries), and bread dipped into the creamy concoction made for a cozy and communal meal. In fact, the first fondue recipe was printed in Zurich in 1699 and was called "to cook cheese with wine", which is the essence of fondue.
Check out some of our favorite cheese fondue and wine pairings sure to bring a cheesy grin to your face!
Smoked Gouda Fondue
Cabernet Sauvignon, commonly called the "King of Red Wine Grapes," pairs well with gouda cheese as its high tannin content holds up well to aged Goudas.
Ingredients
2 cups heavy cream
3 cups shredded smoked gouda
1 cup shredded gouda
¼ tsp. black pepper
Toasted Bread Cubes
½ loaf french bread
2 tbsp. olive oil
½ tsp. garlic salt
Directions
Smoked Gouda Fondue
Bring heavy cream to a simmer over medium heat.
Slowly whisk in the shredded cheese a little (about ¼ cup) at a time. Stirring until completely melted before adding more.
Once all of the cheese has been added, stir in the black pepper.
Toasted Bread Cubes
Cut the French bread into cubes and spread on a rimmed baking sheet.
Drizzle with one tablespoon of olive oil and sprinkle with ¼ teaspoon of garlic salt. Stir and repeat with the remaining olive oil and garlic salt.
Bake at 425˚F for 3-5 minutes, stirring after 2 minutes.
Fontina, Swiss and Pancetta Fondue
A German Riesling does an excellent job of off-setting the rich creaminess of this cheese fondue.
Ingredients
8 oz. fontina cheese, shredded (2 cups)
8 oz. swiss cheese, shredded (2 cups)
1 ¼ cups dry white wine
4 tsp. cornstarch
1 large garlic clove, halved
3 oz. thinly sliced pancetta, crisped and crumbled
Assorted Dippers: blanched Brussels sprouts, cubed and roasted butternut squash, roasted cauliflower and broccoli florets, cubed focaccia bread, cooked and sliced spicy Italian sausage links, sliced fresh pear
Classic Le Gruyère Fondue
The crispness in a Chenin Blanc cuts through the rich gruyère, while the wine's fruity notes pair with apples or pears dipped in the cheese.
Ingredients
1 ½ lb. Grand Cru gruyère cheese, shredded
1 ½ tbsp. cornstarch
1 ½ cup dry white wine
1 loaf crusty bread, cut or torn into 1-inch pieces
24 bite-size new potatoes, boiled until tender
2 apples, cored and cut into 1-inch pieces