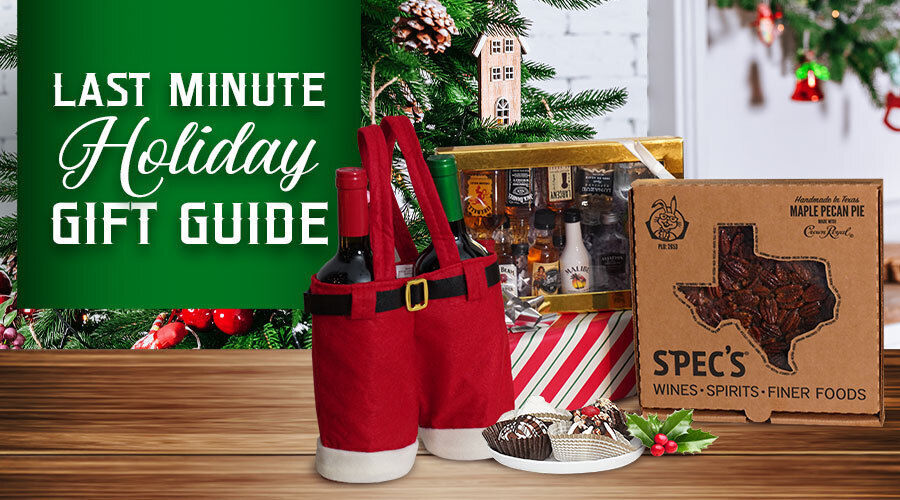 Last Minute Holiday Gift Guide
Some of our top gifts to give your friends and loved ones for the holiday season!
It's everything you love about pie with a subtle kick of everything you love about bourbon. The infusion of Crown Royal Maple Bourbon highlights the seasonal flavors in every slice of sticky sweet perfection! But you'll want to hurry in and get yours soon as they're only available for a limited time!
Super premium, crystal clear ice. Best for slowly watering down barrel proof and high proof whiskey or cask strength scotch. These crafted fat ice cubes are perfect for cocktail flights, weighted cocktails and barrel aged cocktails.
Wine & Cheese lovers rejoice with the Silhouette Cheese Board, a wine bottle-shaped, split-level cutting board made from eco-friendly rubberwood. And don't worry about misplacing your cheese tools as the board swivels open to spotlight two cheese tools and a corkscrew.
Spec's assorted flavors of chocolate truffles are soft, smooth, and silky with a creamy center that melts in your mouth. Indulge in gourmet sweetness with a gift that says, "Save one for me!"
Give the gift of variety with this fantastic collection of mini liquors wrapped and ready share! A great idea for the host or the perfect gift for those difficult-to-shop-for folks or the ones who seem to have it all.
This OMG adorable Santa Pants Gift Bag is the cutest way to give holiday wine! Grab an extra set for yourself and use as décor around the house by filling them with garland and pinecones.
GUEST WITH THE BEST
There's an understanding that when you arrive at a holiday party, you should bring a little something for the host. A bottle of wine, spirits or a six pack of craft beer are pretty much standard gifts, but what if your gift was actually helpful throughout the course of the evening? That's where mixers come in. Mixers are typically the first things to run out at a party and they're one of the most important to keep guests happy. No one wants to sit around sipping straight alcohol all night. (well not the majority of people anyway) And seeing as all mixers aren't created equal, we've put together a list of some of our favorites for you.
A trusted brand with a stellar reputation for purity, integrity, flavor, and value.
Crafted with only the best naturally sourced ingredients from around the world and no artificial flavorings or sweeteners to create mixers that do justice to the world's finest spirits.
Offering a variety of all-natural mixers that contain no high fructose corn syrup, no preservatives, and nothing artificial. Just natural ingredients to craft the perfect cocktail with.
A line of premium Texas mixers that mix well with tequila and many other spirits, sparkling water, wine, and beer.
And because tomorrows never stop coming:
DrinkAde is a sugar-free drink that helps support the body in neutralizing toxins and rehydration during a night out celebrating, so you feel great the next day.