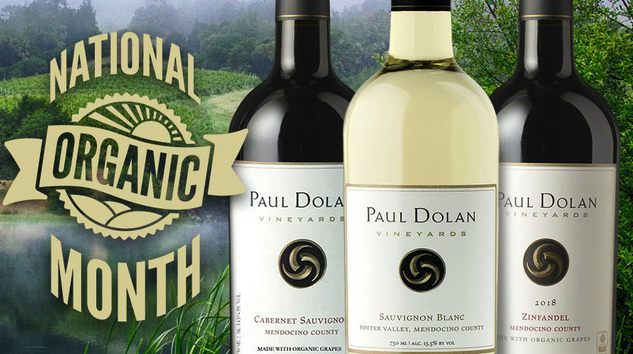 Paul Dolan Organic Vineyards
The farming at Paul Dolan Vineyards is 100% organic and is done without the use of pesticides, herbicides or synthetic fertilizers. By treating the soil as a living, life-giving organism and nature as their guide, Paul Dolan crafts organic wines of character and purity.
"After tasting the real difference between organic and conventionally farmed grapes, side by side in a sun-drenched vineyard in 1987, my entire way of thinking about grape growing changed. The organic grapes were expressive, interesting and balanced while the conventionally farmed grapes were bland and insipid," says Paul Dolan.
After making the decision to grow and use only organic grapes in his wines, Paul took his new role as an organic farmer a step further by promoting and enhancing biodiversity, biological cycles, and soil fertility, and restoring, maintaining, and enhancing the ecological harmony of the land. He even bucked a popular wine finishing process that uses animal-based fining to ensure he is doing right by his vegan customers as well as the animals and land.
Featured organic wines from Paul Dolan:
Rich, regal, and layered, aromas of black currant, olive tapenade, and licorice are followed by flavors of black cherry, liquor de cassis, and carob.
Enjoy with short ribs, meatballs, or grilled ribeye.
The perfect flavor marriage with tastes of boysenberry preserves, black pepper, and orange marmalade.
Pair it with white meats, pasta, or pizza.
A lush wine with flavors of brightly refreshing kiwi and citrus zest with an aromatic lemongrass perfume.
Try it with salads, Thai dishes, or Mexican seafood.