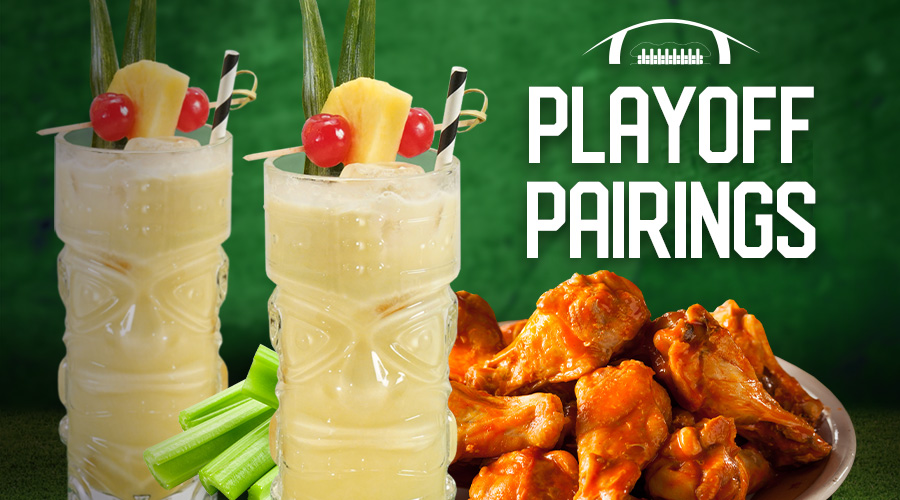 With the NFL's expansion of the playoffs for the 2021 postseason, there will now be seven teams from each conference taking the field during the month of January. So, you'll get even more football than usual and that means you'll need more ways to keep your mouth entertained (besides yelling at the TV).
While beer might be the go-to for gathering around the TV and pairing with snacks, a cocktail can be a great thing to sip on while you spend almost all of January glued to the tube.
Whether you're looking for shots, sippers, or beer cocktails to pair with your plate for the entire postseason, we've got you covered with some all-star choices to elevate your football binging.
Traditional Buffalo Wings and Tiki Touchdown
Sweet meets heat for the ultimate pairing that takes a gameday classic to new heights.
Tiki Touchdown
Ingredients
24 oz. pineapple juice
9 oz. dark rum
3 oz. lime juice
3 oz. orange curacao
3 oz. cream de coconut
1 oz. green chile habanero sauce
Directions
Into a pitcher or large container combine all your ingredients. Using a whisk or slotted spoon to mix your ingredients together until well-combined.
Pour cocktail into a highball or Tom Collins glass filled with ice.
Garnish with optional pineapple, cherries, and pineapple leaves.
Limoncello Raspberry Prosecco Cooler & Bacon Wrapped Pears with Horseradish Cheddar
The sweetness of the pears and sharp bite of the cheese contrast perfectly with refreshing tartness of this delightful cocktail.
Limoncello Raspberry Prosecco Cooler
Ingredients
1 (750ml) bottle prosecco, chilled
4 oz. limoncello liqueur, chilled
1 pint fresh raspberries
About 8 sprigs fresh mint
Directions
Chill four wine/cocktail glasses in the freezer or refrigerator. Place raspberries on a plate and freeze.
Remove chilled glasses, add limoncello (1 oz. each), and top off with Prosecco. Add raspberries and mint leaves.
Bacon Wrapped Pears with Horseradish Cheddar
Ingredients
12 slices bacon
3 small to medium ripe pears
About 2 tbsp. lemon juice
About 2 oz. of horseradish cheddar
wooden toothpicks
Directions
Preheat oven to 375ºF.
Line baking sheet with sides with foil. Place bacon slices in single layer on sheet. Bake for 8 to 12 minutes, watching carefully toward end, or until bacon is cooked but still very pliable, not crisp.
Cut each pear into about 8 wedges, removing any center core or seeds. Brush cut sides with lemon juice.
Make shavings of cheddar with vegetable peeler and drape some over each pear wedge.
While still hot, cut each cooked bacon slice in half and wrap around pear and cheese, holding in place with toothpick. Serve at room temperature.
Bratwurst and Rosa & Soda
Bratwurst, or any sausage for that matter, pairs well with an acidic beverage ingredient as it does a wonderful job of cutting through the fat.
Rosa & Soda
Ingredients
4 oz. Cocchi Rosa
2 oz. sparkling lemon water
lemon wheels
ice
Directions
Place ice cubes in a rocks glass, add Americano Rosa and soda.
Stir well with a barspoon.
Add a lemon wheel and serve.
Pizza with Bacon and Blood Orange Old Fashioned
Bourbon and bacon are a no-brainer and this cocktail ups the ante with a touch of sweetness to keep it light while the bourbon cuts through the heavier fatty flavors of bread, cheese, and bacon. 
Blood Orange Old Fashioned
Ingredients
2 oz. Bourbon
½ blood orange juice
2-3 dashes angostura bitters
½ oz. simple syrup
Garnish
Directions:
Combine all ingredients in a cocktail shaker over ice, shake 40-50 times until ice cold
Place garnish slice in an Old Fashioned glass over ice
Pour the cocktail over the top of the garnish