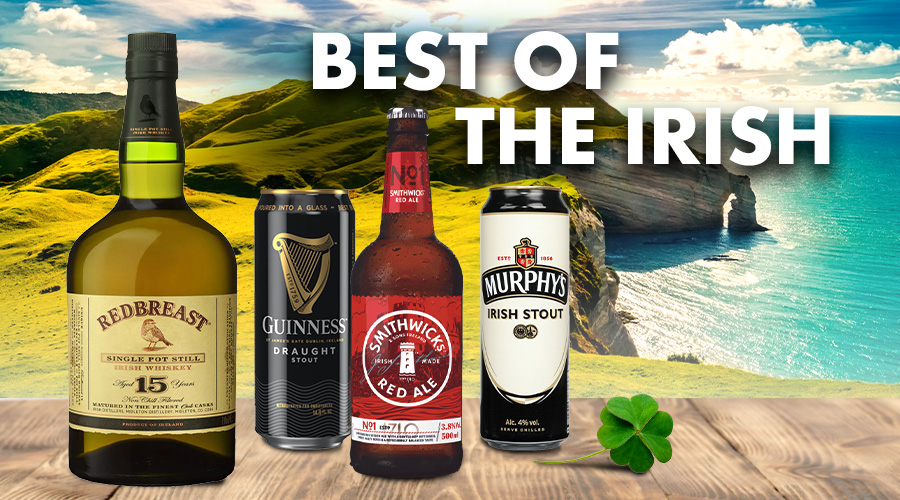 Sláinte: The Best Irish Wines, Beers, and Spirits
When Irish eyes start smiling, knowing the proper libation to serve will help keep them that way. That being said we've put together a list of the top, and some obscure, Irish potations for you to keep on hand this St. Patrick's Day.
Bunratty Irish Honey Mead
Created from an old Irish recipe this mead is made of honey, white wine, and herbs and produces a fairly sweet mead well-suited for a variety of occasions. Served cold or slightly warmed, it pairs well with chicken or turkey, and is the perfect finish to a St. Patrick's Day meal of corned beef and cabbage.
Smithwick's Irish Ale
The perfect blend of sweet barley, mild hops, and roasted barley makes up Smithwick's original red ale. This distinctly red session ale (3.8%) is a great way to give a nod to the Emerald Isle without being too strong, so you can enjoy several sláinte throughout the day!
Murphy's Irish Stout
Unlike most stouts in the states, Murphy's is rather light and sweet making it more and more popular in the U.S.
Harp Lager
A flavorful European-style lager that's light in color with a smooth, sharp refreshing finish.
Guinness Draught
Guinness is an Irish dry stout known for its deep, dark flavors and smooth aromas. It's one of the most successful beer brands in the world. When layered with a Harp, it creates the wonderful Black & Tan!
Quinns Barrel Rested Poitin
Poitin is rather similar to Irish moonshine. Poitin was traditionally made in a small pot still and the word is a shortened version of the Irish word "pota" which means pot. It's also close to the Irish word for hangover, which is "póit." It is only made from cereals, grain, whey, sugar beet, molasses and potatoes. Naming aside, this once illegal liquor is now made by reputable distilleries and is a spicy, rich liquor.
Redbreast 15-Year Irish Whiskey
Originally created as a limited edition for La Maison du Whisky in Paris, this Irish Whiskey has since been formally added to the family lineup. The extra time in a barrel give it a mellow taste featuring malt, caramel, toffee and orchard fruit.
Hop on over to your nearest Spec's and shop our selection of the best Irish wines, beer, and spirits.