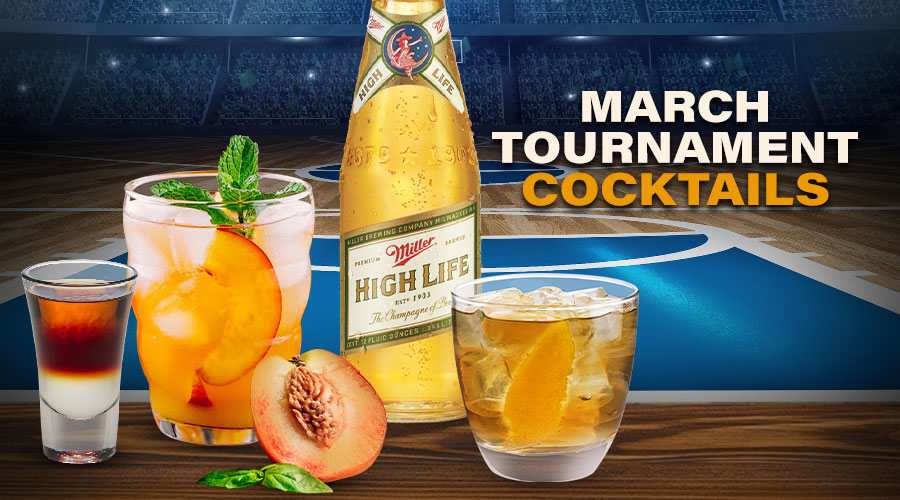 March Tournament Cocktails
The largest non-official work holiday is almost here!
Non-official work holiday? By this we're referring to the last few weeks of March where you keep one eye on keeping up appearances and the other firmly planted on some sort of visual display showing college basketball.
It's March Madness!
And while American companies reportedly lose at least $1.2 billion per every hour of unproductivity during the first week of the NCAA tournament, you can certainly raise the bar on your watch parties with some delicious cocktails.
So, before the whistle blows be sure to have your cocktails ready to roll with these drink recipes!
CORSAIR
A fancy beer & margarita hybrid that pairs well with bowls of snacks.
INGREDIENTS
DIRECTIONS
Add ice to a coupe glass and swirl; set aside to chill.
Pour 2 oz. of limoncello into an empty cocktail shaker; add 2 oz. of blanco tequila and ¾ of an oz. of fresh lime juice.
Then add ½ of an oz. of preserved lemon syrup, 2 hearty pinches of salt, and 10 drops Bittermen's Hellfire Shrub.
Add ice and shake vigorously for 10 to 20 seconds.
Discard ice from the coupe glass and strain the mixture into the chilled glass.
Serve with a pony bottle of Miller High Life on the side.
BRACKET BUSTER
Easy drinking and great for soothing a busted bracket.
INGREDIENTS
DIRECTIONS
In a tall glass, add basil, sugar, and lime juice.
Muddle ingredients together with a muddler or long wooden spoon for 30 seconds.
Add bourbon and stir.
Add Sprite. Pour over a tall glass filled with crushed ice. Enjoy.
BOURBON PEACH BACKBOARD SMASH
Covers all the plays.
INGREDIENTS
DIRECTIONS
Muddle the mint, peach, sugar and lemon in a shaker. (Use a down and twist motion to muddle until the juice is out of the lemon. That tells you that the oils are out the lemon skin and also out of the mint)
Add the bourbon and ice.
Shake well.
Strain into a rocks glass over crushed ice and garnish with mint and lemon.
AMARETTO SOUR SLAM
Less sweetness, more booze
INGREDIENTS
DIRECTIONS
In an empty cocktail shaker, pour 1.5 oz. amaretto. Add bourbon and fresh lemon juice, followed by simply syrup and egg white.
Dry shake (no ice added) for 5 to 10 seconds, then add ice and shake vigorously for an addition 5 to 10 seconds.
Add ice to an old-fashioned glass, and strain mixture into it. If desired, garnish with a lemon peel and brandied cherry.
NOTHING BUT NET
INGREDIENTS
DIRECTIONS
Shake all but soda.
Strain into Collins glass with ice.
Top with soda.
Garnish with orange slice
HALF COURT SHOOTERS
The Hail Mary of alcohol combinations
INGREDIENTS
DIRECTIONS
In an ice filled glass combine 151 proof rum, Jägermeister, and Rumple Minze.
Shake to combine.
Strain mix into shot glass.