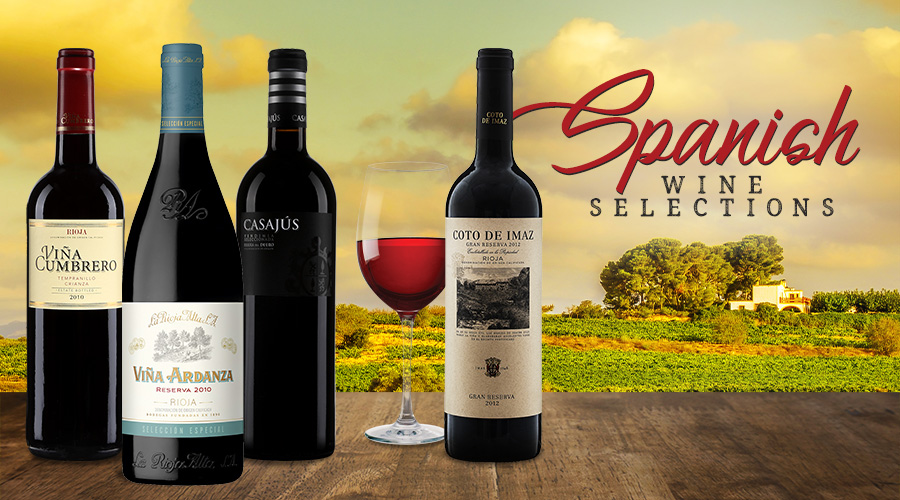 When most people think of Spanish wine they inevitably think of sangria, but Spain has a lot more to offer when it comes to wine!
The origin of wine in Spain is old enough to have been lost to time as no one really knows who first brought vines to the area. By the time the Phoenicians arrived some 3,000 years ago and founded what are now the cities of Cadiz and Jerez, viticulture was well established, and Spanish wines became widely traded throughout the Mediterranean and North Africa.
In the 19th century the devastating vine louse phylloxera was destroying all of Northern Europe's vines. This spurred winemakers from France to cross the Pyrenees Mountains bringing with them new grape varieties and modern techniques. By the time phylloxera reached Spain, it had been discovered that American rootstock was immune and could be grafted onto European vines which allowed Spanish vineyards to be spared the level of damage seen across Europe.
Since the middle of the twentieth century Spain's winemakers have been relentlessly driven to improve quality and with their entry into the European Union, new legal standards for wine were put in place across the country. Today, new generations of winemakers are crafting spectacular wines and experimenting with varietals that would have been unthinkable only a short time ago.
What's surprising, is Spain is the 3rd largest producer of wine with the largest land area dedicated to vineyards in the world. Since Spain is a peninsula, the climate varies widely from region to region. Most of central Spain sizzles under the summer sun and gets very cold in the winter. In the northwestern part, called Galicia, the cool ocean breezes and many rivers lead to the moniker "Green Spain." In the south, the brutal, arid land and howling winds can prove too much for most grapes. The Mediterranean to the west contributes warm temperatures and cooling breezes, while the Pyrenees on the border with France block rain clouds from making their way to the north central area.
Spain's Wine Regions
Northwest "Green" Spain
Regions to Know: Rías Baixas, Ribeira Sacra, Bierzo, Txakolina
Key Grapes: Albariño, Mencía, Godello
Ebro and Duero River Valleys
Regions to Know: Rioja, Ribera del Duero, Toro, Rueda, Cariñena
Key Grapes: Tempranillo, Garnacha, Carignan, Verdejo, Viura
Northern Mediterranean Coast
Regions to Know: Cava, Priorat, Montsant
Key Grapes: Carignan, Garnacha, Cava Grapes: Macabeu (aka Viura), Parellada, and Xarello
Southern Mediterranean
Regions to Know: Utiel-Requena, Yecla, Jumilla, Bullas
Key Grapes: Monastrell, Bobal, Cabernet Sauvignon
Central Plateau
Regions to Know: Méntrida, Uclés, Vinos de Madrid, etc
Key Grapes: Tempranillo, Garnacha, Albillo, Petit Verdot
Andalucía
Regions to Know: Sherry, Sierras de Málaga, Montilla-Moriles
Key Grapes: Palomino, Pedro Ximénez, Muscat de Alexandria
The Islands (including The Canary Islands)
Regions to Know: Islas Canarias, Illes Beleares
Key Grapes: Palomino, Listán Negro, Callet
Recommended Spanish Wines
Delightfully crisp with fleshy flavors of tart cherry and red currant that are delivered through medium plus acids and tannins. Notes of vanilla and cinnamon are prevalent on the finish with smidgeons of rose petal and cranberry. Female winemaker Maria Martinez has produced a gem from the Rioja Alta with this 100% Tempranillo.
James Score: 90 Points
This wine is 100% Tempranillo produced in the heart of the Ribera del Duero DO. The grapes were hand-harvested, and the ensuing wine was produced with the utmost care. Flavors of sweet blackberries and currant are surrounded with medium plus tannins and medium acids. The wine is aged for 14 months in French barrique which gives the wine subtle nuances of cinnamon and vanilla bean. The finish is long and lingering with hints of licorice and crushed rocks.
James Score: 92 Points
The Tempranillo grapes (80%) come from our 30-year-old La Cuesta and Montecillo vineyards, located in Fuenmayor y Cenicero. The Garnacha (20%) comes from La Pedriza vineyard in Tudelilla (Rioja Baja). The nose stands out for its fresh, spicy character, with hints of sweet cherries, redcurrants and ripe strawberries assembled with notes of black pepper, sweet licorice, nutmeg, coffee, mocha and cinnamon. Intense and well-balanced in the mouth, with a soft freshness, nice structure, and delicately elegant tannins.
James Score: 96
El Coto de Imaz 2012 Gran Reserva is a robust 90% Tempranillo and 10% Graciano red wine blend. Mature and so tasty with dark plum, ripe red berry, dark chocolate, and spicy flavors on the palate. Full bodied, with some soft, but grippy tannins, bright acidity, and lots of ripe fruit, spice, and smoke on the finish. Vibrant acidity for food. Well-crafted, balanced, and aged. An excellent Rioja red.
James Score: 91