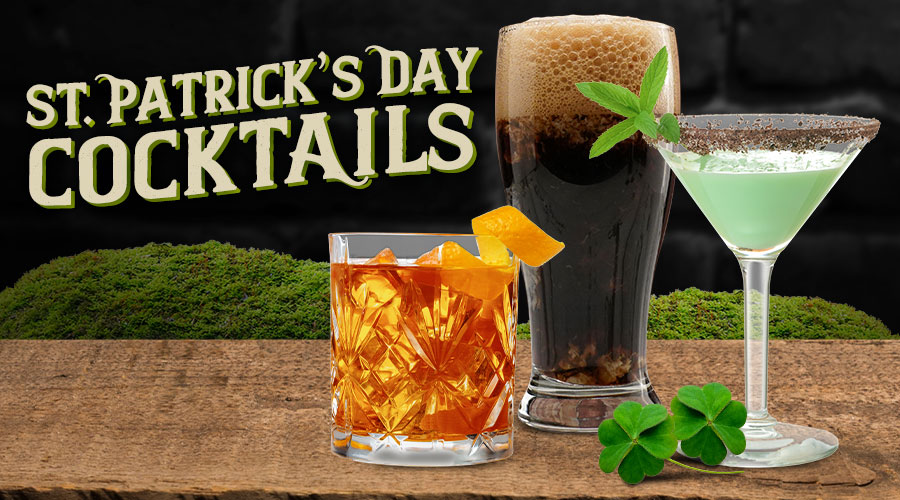 St. Patrick's Day Cocktails
St. Patrick's Day typically conjures images of green beer, tacky t-shirts, and terrible Irish accents. And while there's absolutely nothing wrong with that, if you give us a minute, you'll be the historically savvy fella spreading a smidge of knowledge about the man behind this gloriously green holiday!
Patrick, "the patron saint of Ireland", was actually born in Roman Britain, not Ireland.
His birth name wasn't Patrick either – it was Maewyn Succat, but he chose to go by Patricius.
While his father was a deacon in the early Christian church, Patrick wasn't much of a believer until he was captured by Irish pirates at the age of 16 and enslaved for six years as a shepherd.
After escaping, and a brief stint as a prisoner in France, he eventually returned home and claimed God told him to bring Christianity to the Irish.
It's said he drove all the snakes from Ireland, but there never were any snakes there to begin with.
Patricius is now known as St. Patrick even though he's technically not a canonized saint by the Catholic Church.
Patrick's Day was originally a religious celebration commemorating the life of Saint Patrick and the arrival of Christianity in Ireland.
Now that you've learned some stuff, you deserve a drink. No, not a green beer monstrosity, but rather a collection of Irish whiskey cocktails that run the gamut from sweet, to shooters, to just darn good cocktails.
Sláinte, y'all!
Gaelic Grasshopper
Ingredients
Directions
Shake lightly and strain over crushed ice.
Garnish with mint and shaved chocolate.
Irish Slammer
Ingredients
Directions
Pour Guinness into a stout glass.
Add the Irish cream and whiskey to a shot glass.
Drop into the beer and enjoy!
Irish Old Fashioned
Ingredients
¼ honey syrup (made from 2 parts honey and water and then chilled)
2 dashes of angostura bitters
2 oz. Proper #12 Irish Whiskey
Garnish with a swath of lemon
Directions
Combine all ingredients with ice and stir until the cocktail is chilled and properly diluted.
Strain over ice into an old fashioned glass.
Garnish with a swath of lemon.
Irish Eye Opener
Ingredients
¾ ginger–brown-sugar syrup*
3 oz. cold brew coffee
Directions
Add all the ingredients except the stout to a shaker and stir.
Strain into a rocks or mini stout glass.
Dry-shake (without ice) the stout and add to the top of the cocktail.
*ginger-brown-sugar syrup: Combine equal parts fresh ginger juice with dark brown sugar in a blender, and blend until fully incorporated.
Isaiah Rynders
Ingredients
1 oz. Cardamaro
¾ fresh lime juice
¾ ginger syrup
3 dashes aromatic bitters
1 splash vanilla soda
garnish: freshly grated nutmeg
Directions
Add all ingredients into a shaker with ice and shake vigorously.
Strain into a highball glass over one large ice cube.
Top with the vanilla soda.
Garnish with freshly grated nutmeg.