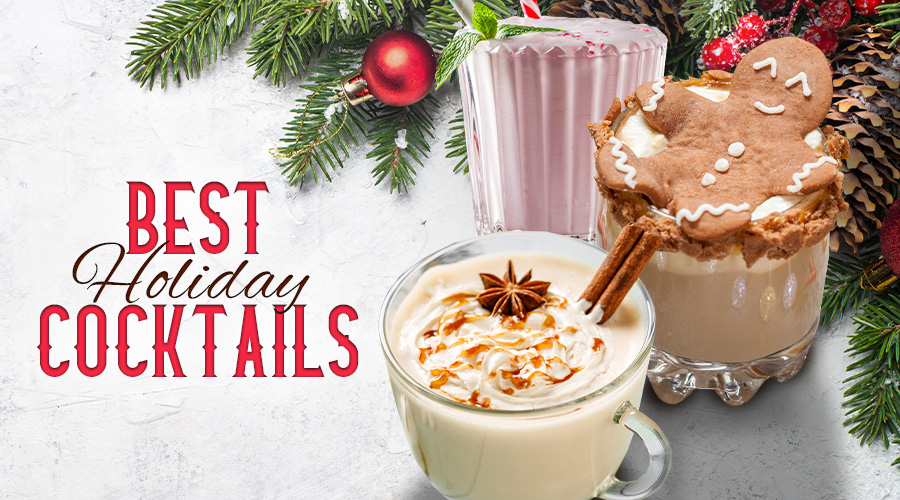 The Best Holiday Cocktails
Looking for the best holiday cocktails to impress the relatives? Well, lucky for you so were we, and that's why we've got such a great list for you! Because everyone is different, we've narrowed it down to four cocktails that we think express the best flavors of the season. It's the easiest way to wow your family without becoming a doctor.
North Pole Eggnog
Ingredients
1 oz. amaretto
1 oz. vodka
2 oz. store bought eggnog
pinch of nutmeg
pinch of cinnamon
caramel sauce for rimming the glass
Directions
Rim a cocktail glass with caramel sauce.
Shake the eggnog, amaretto and vodka together in a shaker filled halfway with ice.
Strain into a cocktail glass and garnish with more cinnamon.
Gingerbread Martini
Ingredients
Garnishments:
ginger cookies
whipped cream
honey
Directions
Dip rim of a martini glass into honey and then dip into crushed ginger cookies until coated.
Add all ingredients to a cocktail shaker with 1 cup of ice.
Shake vigorously for around 30 seconds and strain into a prepared martini glass.
Top with whipped cream and a ginger cookie.
Peppermint White Russian
Yields 2
Ingredients
1 cup vanilla frosting
¼ cup peppermint candy bits
4 oz. Kahlúa coffee liqueur
2 oz. peppermint vodka
4 oz. half and half cream
6–8 ice cubes
Directions
Apply a thin layer of vanilla frosting around the rims of both glasses.
Add the peppermint bits to a shallow bowl. Dip the rims of each glass into the candy, covering the frosting entirely. Chill for 10 minutes.
In a cocktail shaker, add the Kahlúa, vodka and half-and-half cream. Shake well.
Pour into the peppermint-rimmed serving glasses (filled with ice) and enjoy!
Poinsettia Cocktail
Ingredients
Garnishments:
1 rosemary sprig
whole cranberries
Directions
Place the orange liqueur and cranberry juice in a cocktail shaker with ice and shake for 15 seconds until cold.
Strain the liquid into a champagne flute.
Top off the glass with champagne (no need to measure).
Garnish and serve.