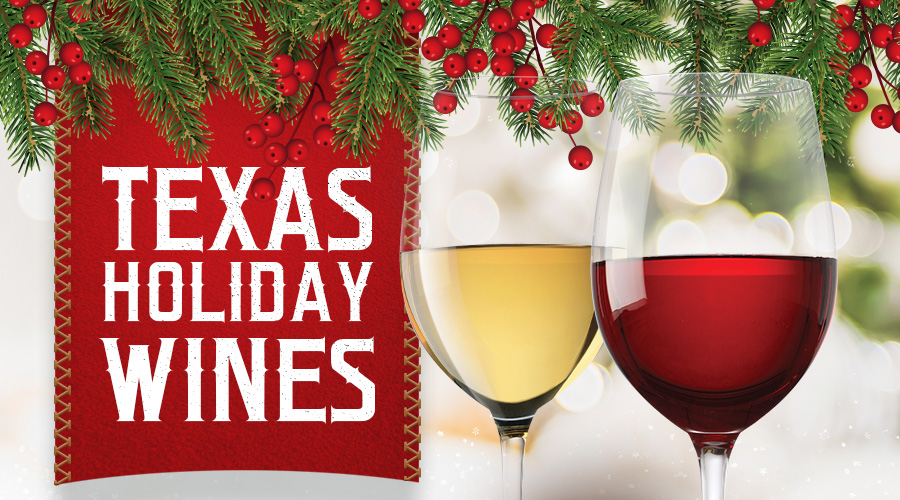 Besides the fact that shopping local is more important than ever this holiday season; Texas makes some really good wines! So, whether you're gifting or treating yourself, we've put together 5 Texas wines that will go wonderfully with your seasonal dishes and help to support a local business.
But first, some Texas wine history!
History of Texas Wine
When you think of wine production in the U.S. people tend to think of California as the original region, but Texas is one of the oldest wine growing states in the US with vines planted here more than a hundred years before they were planted in California or Virginia. In the 1650s, Franciscan priests planted Mission vines in West Texas, near modern-day El Paso. The vines were a necessity in the production of sacramental wine used in the Eucharist. The advent of Prohibition in the United States virtually eliminated Texas' wine industry, which didn't experience a revival until the 1970's.
Today there are more than 400 wineries in Texas which makes it the 5th largest wine-producing state in the nation. The Lone Star State is home to eight American Viticultural Areas including the North-Central Region, the South-Eastern Region, and the Trans-Pecos Region.
This Sparkling Moscato (Spumante) is delightfully sweet with crisp fruit flavors of orange peel, peach, and nectarine. This aromatic wine has wonderful floral notes on the nose. Fresh and effervescent, this delicate sparkling wine pairs nicely with a diverse selection of foods, particularly creamy sauces, seaside Mediterranean dishes, and game birds.
Pedernales Cellars prides themselves on using ecologically sound practices to create world-class wines. Their Viognier has aromatic notes of caramel, brown sugar, and vanilla, followed by dried pineapple, roasted lemons, and apricots. On the palate, vanilla, roasted pineapple, lemongrass, and toast lead on a long finish with a balanced acidity. Pairs wonderfully with chicken and crisp spring greens.
This Texas Tannat is a blend of 7 wines made from the harvests of multiple vineyards. With care and experience, Tannat grapes produce balanced, full-bodied red wines with power, structure and complexity. Bending Branch's Texas Tannat is bright with flavors of mouthwatering sour cherries and crushed blackberries, and an enticing nose of dusty rose. Try it with pork chili verde, roast duck with prune stuffing, carne asada, or smoked sweet potatoes with chimichurri sauce.
William Chris Vineyards focuses on low intervention, 100% Texas-grown wine. In 2010, a skeleton key found on the vineyard estate became the inspiration behind this label. You'll experience essences of roasted pineapple, while buttery custard and lemon tickle the nose. Medium-bodied, this white wine evokes starfruit passionfruit and guava on the palate. Try it with salads, desserts, and dishes you'd squirt lemon over.
The Kiepersol Moscato is a fresh ultra-premium wine with heady tropical aromatics. The intense notes of mango, papaya and natural Muscat linger with a light floral and pollen nose. This summertime favorite has a sweet juiciness and a bit of a fizz that will engage the senses. It's perfect with appetizers, sweet side dishes, dessert, and alone as an aperitif.