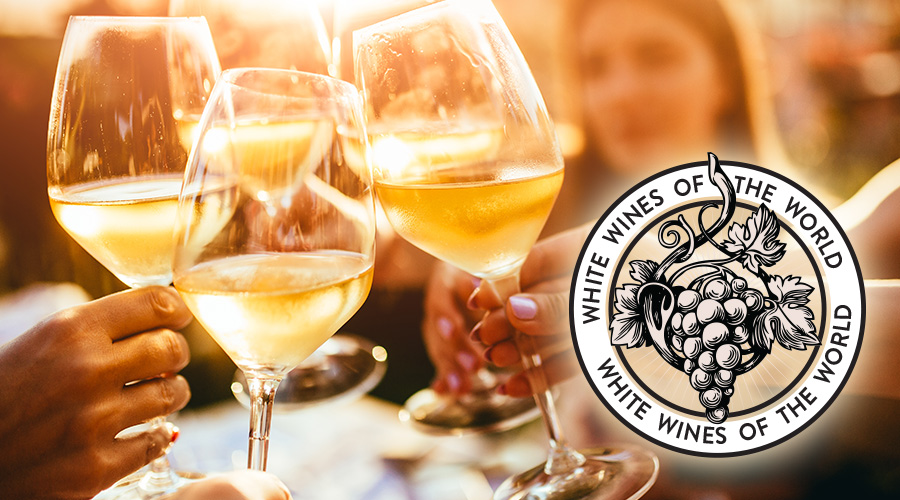 Narrowing your wine preference down to red or white can be relatively easy, but trying to sip your way through every type of white wine is not something we'd suggest. That's why we've broken white wines down into the three most requested types. We'll be diving deep into dry, sweet, and aromatic (or floral) white wines to give you a good sense of each and help you find a type that's perfect for you.
Dry White Wines
When we think of the word dry, we think of an unpleasant mouth feeling. But when white wines are described as dry, what they really mean is it's not sweet.
Dry white wines are created during the winemaking process. During malolactic fermentation, the sugar in the grapes is converted to alcohol. If the winemaker stops the process before the fermentation is completed, the wine is left with residual sugar. These sugars give a natural sweetness to the wine. A dry white wine is left to fully ferment which converts most the sugars to alcohol. That doesn't mean these wines can't have a touch of sweetness. Other components in the makeup of wine including tannins and alcohol levels play an important role in the overall flavor profile of wine.
For a white wine to be considered dry there will be less than 10 grams of residual sugar in it, and a sweet wine will have above 30 grams.
Popular types of dry white wine to try:
Oyster Bay Sauvignon Blanc – Stunningly tropical and lime citrus notes with a zesty freshness. A concentration of assertive passionfruit and tropical fruit flavors with an abundant bouquet – it is a wine that is always crisp elegant and refreshing.
Tomero Torrontes – A light color with yellow hues, this Torrontes displays aromas of orange peel and lychee. In the mouth, there is fresh, well-balanced acidity, with great mouthfeel and notes of white grapefruit at the mid-palate.
Pierre Archambault Muscadet – A truly refreshing white with flavors of peaches and pears with touches of nuts.  The wine is light, clean and elegant with medium acidity and plenty of citrus throughout.
Sweet White Wine
With their pleasing floral, fruity, and honeyed flavors, sweet white wines are known to be easier on the palate, especially for those new to wines.
As mentioned above, wine sweetness is measured by the amount of residual sugar the wine contains. It's measured by grams per liter, with 1% of sweetness equivalent to 10 grams per liter of residual sugar.
Seeing as yeast converts sugar into alcohol during fermentation, the more alcohol a wine has, the less residual sugar it'll have. An easy way to think of it is by the ABV (Alcohol By Volume). A white wine with an ABV of less than 12.5% is likely be sweet.
Another way to tell is where the grapes were grown. Cooler regions produce grapes with higher acidity and lower sugar content meaning the wines tend to be drier, and warmer climates have grapes with lower acidity and higher sugar content.
Popular types of sweet white wine to try:
Lions De Suduiraut Sauternes – Lions de Suduiraut 2018 offers a subtle bouquet of spices, peppermint, and fresh pineapple. It is full-bodied and crisp, accentuated by tart, very fruity notes. The finish is clean, spicy with white pepper and gives a very digestible side to the wine.
Matthias Mueller Riesling Feinherb – In the glass you'll see the deep color and sense this mildly sweet Rieslings apricot and lychee aromas. The balance on the palate is utterly refreshing and well sustained through to its finish.
Ricossa Moscato D'asti – This moscato d'asti showcases a pale yellow color and features a bright and aromatic bouquet of floral and fruity notes. On the palate you'll find it sweet and soft with a fresh lingering finish.
Floral White Wines
Not all grape varieties were born equal and certain types can yield wines with more intense aromas, from floral to herbal and citrus notes. Aromatic white wines are defined by dominant floral aromas caused by a special aroma compound found naturally in grapes. They have higher levels of an aroma compound class called terpenes which include the very same aromas found in flowers. Aromatic white wines have particularly high levels of a certain subgroup of terpenes called monoterpenes. Monoterpenes are responsible for all of those lovely aromas of rose, geranium, orange flower, and more.
Aromatic white wines range in taste, intensity, and sweetness, although you'll find several of the prominent varieties to be sweet.
If you stop to smell the roses, you'll love aromatic white wines.
Good examples of aromatic white wine varieties include: Gewürztraminer, Riesling, Muscat, Torrontés, Viognier, and Sauvignon Blanc.
Popular floral white wines to try:
Bodegas Fillaboa Albarino – A crisper wine, not as soft as some of the more floral bottles, but it features heavy notes of honey. Floral notes are there, but the general impression is one of acidity, freshness, not green but bright.
Yalumba Eden Valley Viognier – Floral aromas are strong here, as with all Viogniers, though these are lighter and lean towards fresh white flower petals with underripe stone fruit notes braced by subtle, but tart, acidity.
Dr Pauly Dry Riesling – A burst of muted floral tones perfume this glassy, light-footed dry Riesling. The palate is fruity but crisp suggesting tart yellow plums and limes. The finish is lean and mineral-driven but persistent.