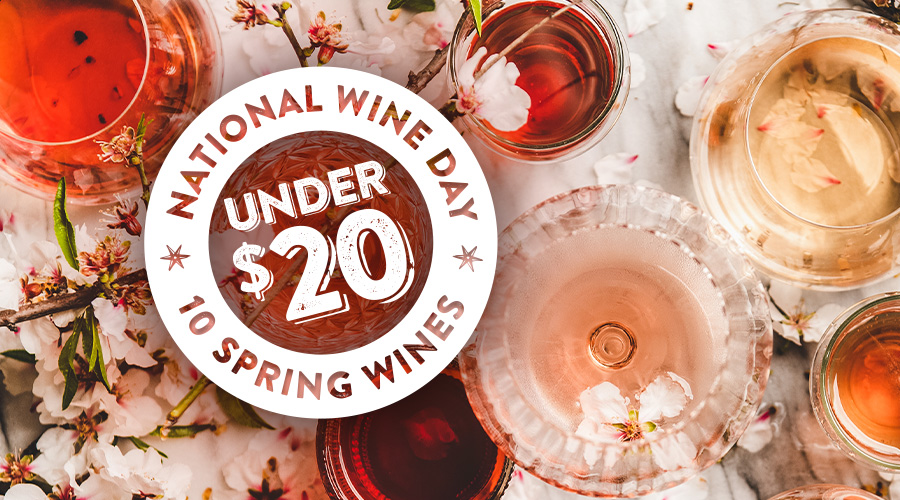 10 Spring Wines Under $20
Spring is officially here and with it comes warmer weather, abundant greenery, wildflowers, and ample time outdoors. So, to help you enjoy nature's awakening, we've put together a collection of wonderful spring wines under $20 to keep that financial spring in your step throughout our favorite sipping season!
Viognier is an excellent alternative to Chardonnay wines, and Wine Spectator hailed this one as number 56 on its list of the Top 100 Wines of 2018. The Yalumba Viognier greets you with a blast of the outdoors like stepping into a flower garden on a warm sunny day. The taste is clean and fresh with a good dose of minerality. This Viognier is a lovely wine to savor and enjoy.
With gentle citrus flavors of meyer lemon and grapefruit, overlapping juicy peach and other tropical fruit, the Hanna Sauvignon Blanc is an excellent wine for sipping outdoors. Foods like grilled seafood, halibut, and chicken will match nicely with its balanced acidity and seamless finish.
Juicy, crisp and fresh, Kono's Sauvignon Blanc features a vibrant fruit driven nose bursting with citrus gooseberry and passionfruit. On the palate, luscious fruit flavors of ripe tropical fruits and lifted herbaceous notes are finely balanced with zesty acidity, an underlying minerality, and a hint of residual sweetness.
This single vineyard wine is a unique expression of Tohu's high altitude site in the upper reaches of New Zealand's Marlborough Awatere Valley. With aromas of passionfruit fresh citrus and currant-leaf, the concentrated palate is layered with sweet tropical fruit herbal notes and a touch of zesty minerality – leading to a pure and focused dry finish.
Provence rosé is the perfect spring sipper, showcasing the harmony and elegance that has earned worldwide appreciation of the roses of Provence. This dry wine offers hints of strawberry, white flowers, and vanilla — so basically, it's spring in a bottle.
As opposed to the aforementioned Provence style, this Pinot Noir rosé has a heftier fruit flavor that includes tropical flavors of guava and crushed loquat alongside field-ripened strawberries, picked fresh from the farmer's market. The vibrant acidity is layered with pink grapefruit zest, rhubarb and pineapple that culminates in a bone dry, refreshing finish making it perfect for planting yourself on the patio.
This wine has delicious aromas and flavors of grapefruit, peach, melon, lychee, lemon grass, lime zest, lemon chiffon and floral notes with a hint of minerality. The Fumé Blanc has bright acidity and crisp freshness from the cool, stainless steel tank fermentation, while the subtle oak character from neutral French oak barrels adds body, complexity and depth. This wine has lively flavors that go well with spicy and ethnic cuisines.
This Italian Prosecco greets you with a sparkling personality that just wants to hang out and let you do you. A pleasant and fruity nose with a generous intensity of green apple, lemon, pineapple, acacia, and rose. The flavor is fresh with subtle light fruit and a clean harmonious finish.
A sweet Spanish Moscato that just wants to have fun in the sun. Its aromas of white flowers, peach, and apricot offer an inviting sense of belonging and the fresh ad fruity palate is the perfect way to say hello to friends new and old.
If you like Chardonnay, Sauvignon Blanc, Viognier, or Riesling, you're sure to enjoy Albariño wine! Tangy flavors mark the La Cana Albariño as an excellent warm weather wine. Peach is the dominant characteristic, along with bright lemon and traces of lime and grapefruit. The acidity makes for a crisp Spring or Summer wine.