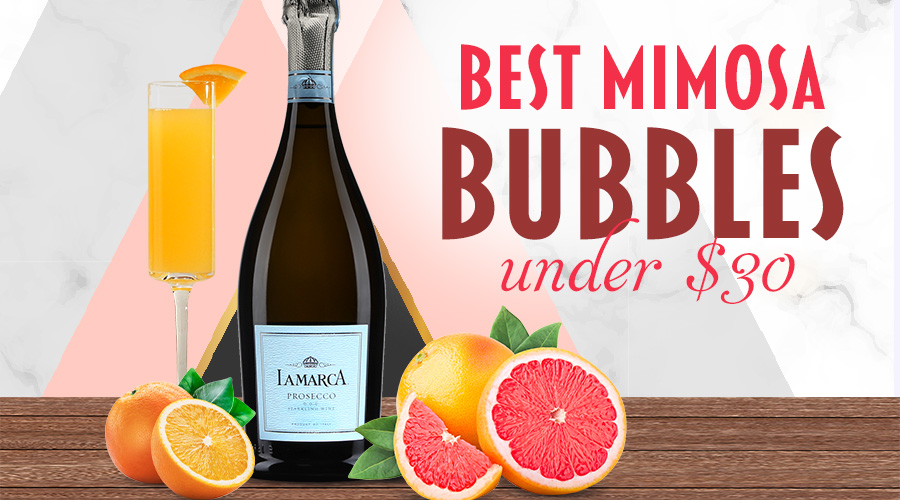 Brunch on a Budget – Sparkling Wines Under $30
Nothing defines brunch quite like the mimosa. It's the only beverage occupying a specific timeslot in our lives. Plus, it's delicious, easy to make, and looks like a glass of sunshine.
The only difficult part about making mimosas is choosing the right sparkling accompaniment, which can be tricky if you aren't a connoisseur. That's why we've put together this list of affordable champagnes and sparkling wines. It's 100% ok to use less expensive sparkling wine for mimosas since you won't be able to taste the subtle flavors of really good sparkling wine due to the orange juice. As for sparkling wines, real champagne is usually much more expensive, and you can save quite a bit using sparkling wine…which means more mimosa, and who doesn't love more mimosas!?
Cuvee M appeals to sparkling wine aficionados with a bit of a sweet tooth. It is a soft off-dry sparkling wine that showcases ripe fruit flavors of napa. Cuvee M displays a graceful stream of fine bubbles, a lovely peachy color and fresh white and yellow stone fruit aromas complemented by notes of wild strawberry, fresh baked bread, vanilla and honey.
In the heart of Italy's lush prosecco region, the la marca trevigiana zone grows the revered glera grapes used to make this delicately flavored wine. With a gentle golden straw color and lively effervescence, this prosecco opens with aromas of fresh citrus, honey and white flowers. The palate is fresh and clean with flavors of ripe lemon, green apple and grapefruit framed by mineral undertones.
Founded in 1887 by Francesco Mionetto in the small village of Valdobbiadene Mionetto. This lovely prosecco is reminiscent of golden delicious apple while the palate is appealingly marked by aromatic notes of white peach and honey. Mionetto's most classic line reflects its connections with the history of the winery and land.
You don't need a reason to celebrate to have a glass of this floral, creamy, and toasty Champagne! Delight in the crisp apple and fresh pear notes of this sparkling wine and be swept away by its spring floral bouquet. It even boasts a toasted almond finish that perfectly balances the brighter citrus palate.
Mirabelle is Schramsberg's multi-vintage brut sparkling wine. This young bright bubbly exhibits the crisp acidity and vibrant green apple/citrus fruit that is characteristic of cool-climate chardonnay. Pinot noir adds body mid-palate and further richness of fruit flavor. The style resembles its French counterpart, but the grapes are hand-harvested in Napa, Sonoma, and Mendocino Counties.