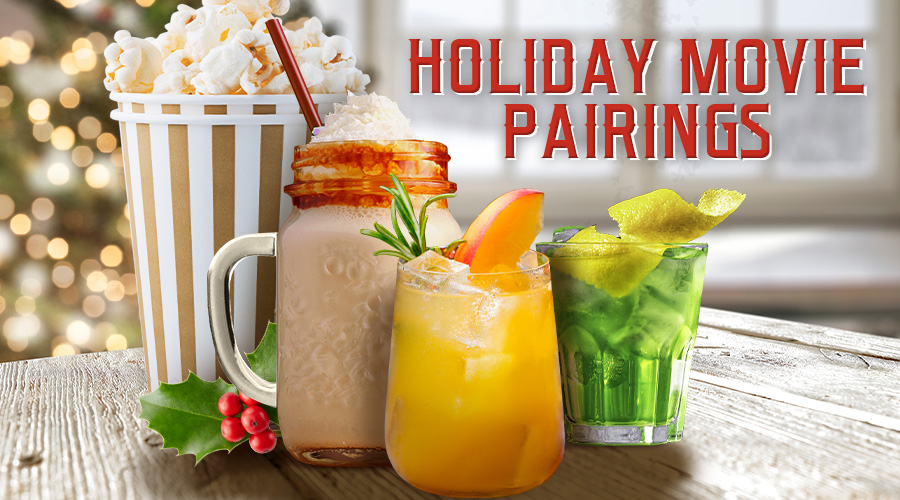 Holiday Movie & Cocktail Pairings
We've found that the best way to enjoy some of our favorite holiday movies is with a perfectly paired beverage! From old favorites to new classics, we hope you find a film to enjoy…and if not, these drinks are delicious no matter how you enjoy them!
National Lampoon's Christmas Vacation
A story of a man whose one wish for the holidays is to have the perfect Christmas. His efforts spiral into the hilarious as countless obstacles line up to impede his dream including electrical issues, feral woodland creatures, redneck relatives, and a grinchy employer.
Fiery Fuzzball Cocktail
Ingredients
Directions
Add fireball, peach schnapps, orange juice, and cinnamon into a shaker. Shake.
In a glass, add ice and pour shaker contents over ice.
Add dash of cinnamon to top, as garnish.
Add a splash of Bacardi 151 on top using a spoon. Careful not to get the liquid anywhere outside of the glass.
Using a long stem lighter, light the Bacardi on fire as a garnish.*
If not lighting on fire, use pine sprig and a dash of cinnamon as garnish.
*We recommend not trying this method if inexperienced. Please proceed with caution. Blow fire out prior to drinking!
The Grinch
In order to find the peace and quiet he seeks, a lonely hermit and his dog come up with a plan to steal Christmas from their friendly neighbors in Whoville.
Quench The Grinch Cocktail
Ingredients
2 oz. melon liqueur
½ oz. lemon juice
1 tsp. simple syrup
garnish: maraschino cherry
Directions
In a cocktail shaker filled with ice, pour in the ingredients.
Shake well and strain into a chilled cocktail glass.
Garnish with a maraschino cherry and enjoy!
The Year Without a Santa Claus
Will Christmas be cancelled when the Ho's turn into No's? An exhausted Santa Claus comes to the conclusion that kids have become too demanding over the years, so he decides to take a year off from delivering presents until one boy helps him rediscover the meaning of the holiday.
Icy Hot Miser
Ingredients
Directions
Pour all ingredients into an ice-filled cocktail shaker.
Shake vigorously until the shaker is frosty.
Strain into a chilled cocktail glass.
Garnish with a mint leaf and serve.
Die Hard
"Come out to the coast, we'll get together, have a few laughs." What could go wrong when a NYD cop goes out to LA to visit his estranged wife at her office holiday party on Christmas Eve? Everything, especially when the festivities are interrupted by a group of terrorists who take over the entire high-rise, and everyone in it. Our wily hero realizes he's the only one who can save the hostages…and Christmas.
Nakatomi Plaza Pleaser
Ingredients
1 oz. Japanese Whisky
¾ oz. chamomile–pink peppercorn syrup (see below*)
¾ oz. lemon juice
2 oz. Topo Chico
Directions
Add all ingredients except soda water to a shaker tin with ice.
Shake well and strain into a highball glass over ice.
Garnish with pink peppercorns.
*Chamomile–pink peppercorn syrup:
8 oz. hot water
1 tbsp. cracked pink peppercorn
2 bags chamomile tea
8 oz. white cane sugar
Add peppercorns and chamomile tea to hot water and allow to steep for 8 minutes.
Remove tea bags and allow peppercorns to continue steeping for another 7 minutes. S
train out peppercorns and mix in sugar.
Home Alone
A bratty 8-year-old gets in trouble the night before a family holiday trip to Paris and makes a wish to have no family. He awakes to discover that he's been forgotten and assumes his wish has come true. The fun takes a turn when he realizes two burglars are planning to rob the house and he alone must defend it.
Ya Filthy Animal
Ingredients
Directions
Add all ingredients to a shaker and shake thoroughly.
Pour into glass over ice and keep the change, ya filthy animal.
Polar Express
A doubtful boy is invited on a magical train that takes him on an astonishing journey to the North Pole on Christmas Eve. Turns out it's a journey of self-discovery that shows him that the wonder of life never fades for those who believe.
Polar Express Martini
Ingredients
Directions
Shake liquid ingredients together with ice.
Strain over ice cream and enjoy.