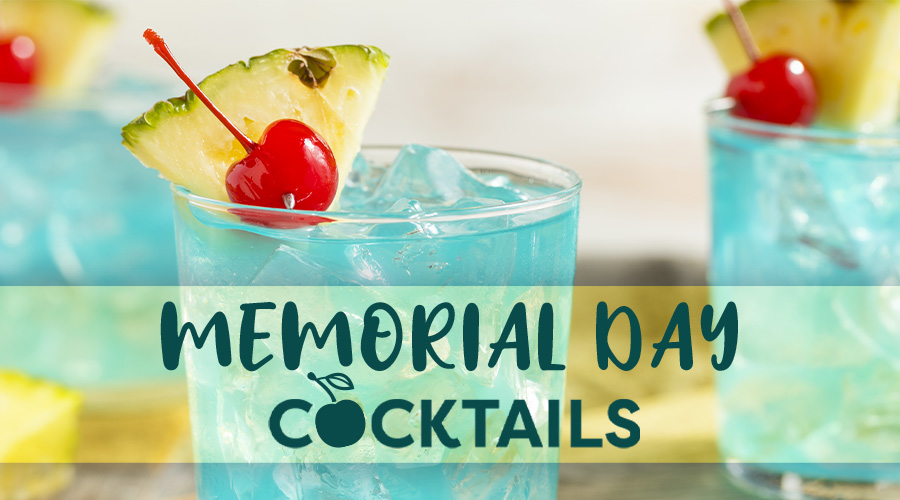 Mouthwatering Memorial Day Cocktails
It's time to fire up the grill and break out the floaties! Even though you likely don't need floaties anymore, they're still a sign of fun times for the kids and therefore, you! So, let's try rephrasing – it's time to fire up the grill and dust off the bathing suit! Memorial Day is here to announce the unofficial start of summer! Along with hotter, longer days comes a reprieve from the dark and heavy drinks of winter and the beginning of fresh, fruity, and delicious cocktails to quench your parched palates.
We've got five wonderfully easy and refreshing cocktails for you to prepare that are sure to have you fending off the curious, and thirsty, during your Memorial Day festivities!
Summer Breeze
Ingredients
Directions
Add tequila, liqueurs and lime juice to a highball glass with cubed ice.
Top with soda water.
Stir with a bar spoon to incorporate and garnish with a lime wheel.
Summertime Blues
Ingredients
Directions
Combine the Blue Curaçao, coconut rum and ginger ale in a shaker, and pour it over ice.
Garnish with a maraschino cherry or sliced star fruit.
Peach Basil Moscow Mule
Ingredients
Directions
Fill four glasses (preferably copper cups, but any cocktail glass will work) with ice.
Add 2 ounces of vodka and 6 ounces of ginger beer to each glass.
Squeeze one quarter of a lemon into each glass, then add a couple of pieces of fresh basil.
Stir all the ingredients together.
Shark Bite
Ingredients
Directions
In a cocktail shaker with ice, pour in 1½ oz. of coconut rum, 3 oz. of pineapple juice, and a splash of Blue Curaçao. Shake for 15-20 seconds until well chilled.
Fill a glass (or jar) with ice, then pour over the cocktail. Give it a squeeze of lime – and you're good to go.
El Chupacabra
Ingredients
Directions
In a cocktail shaker, muddle 2 of the chile slices with the agave nectar.
Fill the shaker with ice and add the gin, elderflower, lemon, and lime juices.
Shake vigorously and strain into a glass filled with crushed ice.
Garnish with the remaining chile rings and serve immediately.