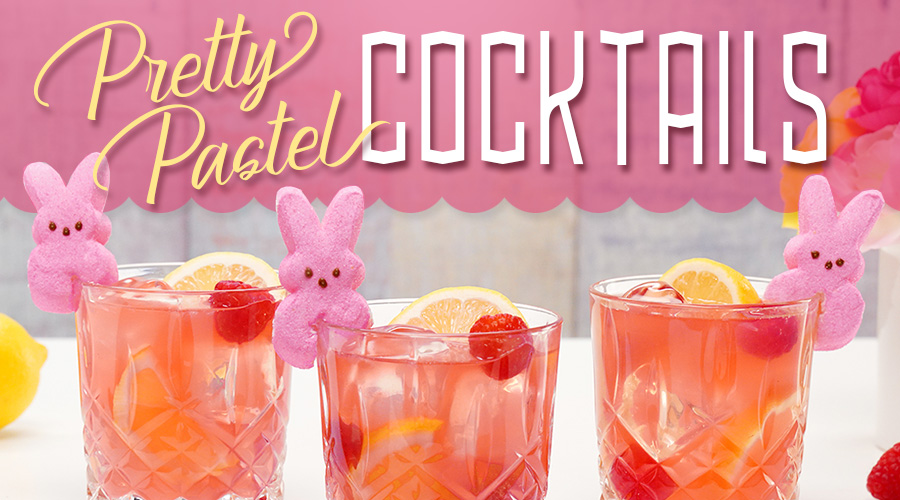 Pretty in Pastel: Colorful Easter Cocktails
If you're anything like us, when you think of Easter, you tend to think in pastels. So, when you're crafting your Easter Brunch menu, of which Easter-themed beverages are surely a part, you'll want to take a look at our collection of pastel colored cocktails to set the perfect mood.
And, if you're curious as to why pastel is tied to Easter, the following explanation will provide a deeper meaning to this seasonal décor.
Why Pastels?
Pastels of white, violet, pink, and green, along with are generally associated with particular aspects of Christian beliefs.
According to the "Encyclopedia Britannica," the color sequence that the Roman Catholic church follows today was first established in 1198 when Pope Innocent III wrote the treatise, "The Mystery of the Sacred Altar." In his outline, the Pope based color symbolism on interpretations from the Song of Solomon in the Old Testament and declared that white, violet, pink, green, and red colors would henceforth be deemed to symbolize specific facets of the celebration of Easter.
White was established as the color representing purity, light, innocence, joy, triumph, and glory. As such, white is still used in all feasts of the Lord, especially during the Easter season, to commemorate the resurrection of Jesus Christ.
Violet symbolizes the Season of Lent, especially on Good Friday. It signifies sorrow and suffering, specifically for Jesus' suffering during his 40 days in the desert. Violent also represents penance, humility, and melancholy.
Pink represents joy and love and is a special color that is properly worn only twice annually, on the third Sunday of Advent and the fourth Sunday of Lent. Pink.
Green is representative of the hope of Christ's resurrection and eternal life. As such, it is worn by priests only after Easter is over.
Red is the symbol of the blood of Christ and is most used during Pentecost, the 50th day after Easter. It commemorates the descent of the Holy Spirit and represents sacrifice, blood, fire, and martyrdom.
The White Lady (White)
Ingredients
Directions
Add all ingredients into a shaker with ice and shake.
Strain into a chilled cocktail glass.
Aviation (Violet)
Ingredients
Directions
Add all ingredients to your cocktail shaker with ice.
Shake for 15 seconds and pour into a martini glass
Garnish with a delicious Maraschino Cherry
Peeps Raspberry Lemonade Cocktail (Pink)
Ingredients
Directions
Add a couple fresh raspberries and a slice of lemon to the bottom of a tall glass and fill with ice.
Add the Raspberry Vodka, followed by the raspberry lemonade and the lemon-lime sparkling water.
Stir gently, garnish with a pink bunny-shaped marshmallow, and enjoy!
The Last Word (Green)
Ingredients
Directions
Chill two stemmed cocktail glasses in the freezer
Fill a cocktail shaker halfway with ice. Add gin, maraschino, Chartreuse, and lime juice
Shake vigorously for 15 seconds, until well chilled
Strain into the chilled glasses and serve
Jack Honey & Grapefruit (Red)
Ingredients
Directions
Put ice in a collins glass and pour in the ingredients.