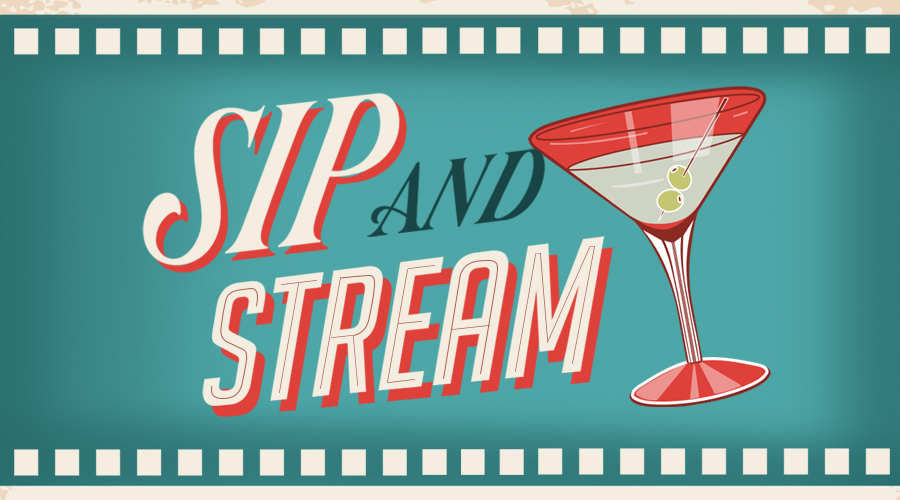 Soooo, here we are stuck at home wondering how to keep ourselves entertained.
…running out of ideas already?
Luckily for you we've put together beverage and boredom pairings to keep you entertained. We're pairing the latest, trending shows and movies with themed drinks so you can get your social on without leaving the couch.
Love is Blind • Netflix
Love is Blind is the ultimate combination of social distancing meets the dating game. According to Netflix – "Nick and Vanessa Lachey host this social experiment where single men and women look for love and get engaged, all before meeting in person." Sure, it's not a documentary about the rainforest, but it will keep you entertained with 11 episodes of edgy courtship!
Pair it with:
Cabernet Sauvignon
Joel Gott 815 Cabernet Sauvignon. It's the wine they drink on the show and it's surprisingly delicious and quite affordable. And sorry for the spoiler alert, but DON'T LET YOUR PETS DRINK WINE!
The Faceless Man – This pairing seems pretty self-explanatory.
Ingredients (clear ingredients are key)
Directions
Pour singani, vermouth, and triple sec into a mixing glass and stir with ice.
Strain into rocks glass over ice.
Add Mezcal floater and enjoy.
West World • HBO
Season 3 of HBO's Westworld takes us out of the theme park and into 2058 Los Angeles for a headfirst dive into the futuristic life outside. If you haven't watched the first two seasons, you've got 20 episodes to catch up on.
Pair it with:
Midnight Train
The Midnight Train is a modern twist on an Old Fashioned; just like Westworld season 3!
Ingredients
Directions
Add all ingredients to a rocks glass.
Add ice and stir until fully combined and chilled.
Man in Black
If you haven't seen the show, you'll get this pairing once you watch S1E1.
Ingredients
Directions
In a cocktail shaker filled with ice, pour the vodka and liqueurs. Shake well.
Strain into a chilled cocktail glass.
Garnish with a lemon twist.
*If it's not dark enough, add 2 drops each of blue and red and 1 drop of green. This should be shaken up with the cocktail to ensure it's fully mixed.
The Invisible Man • Streaming rental/On-Demand
Is it really social distancing if you're an invisible creeper with no respect for boundaries? Being invisible would drive us crazy, but in the 2020 remake, this Invisible Man's goal is to drive his ex-girlfriend crazy enough to get her declared mentally incompetent. A cat and mouse thriller with an incorporeal cat.
Pair it with:
Invisible Mantini
Unlike the film's antagonist, this invisible mantini is on the sweeter side.
Ingredients
1 oz. vodka
1 oz. white cranberry juice
1/2 oz. triple sec
1/2 oz. peach schnapps
Directions
Add all ingredients to a shaker filled halfway with ice.
Shake until very cold and pour into a martini glass.
Garnish with a slice of orange on the rim, or a mandarin orange slice dropped right into the cocktail!
Uncoupling Cocktail
Cheers to a healthy breakup with plenty of transparency.
Ingredients
Directions
In a shaker, mix bourbon, creme cacao, lemon juice and an egg white. Shake well.
Once everything is mixed, add ice and shake again.
Pour into glass over ice
Top with shaved dark chocolate
Little Fires Everywhere • Hulu
Set in the 90's, Little Fires Everywhere is the collision story of a free-roaming, free-spirited artist and her daughter who become involved with a picture-perfect family and their matriarch who's a stickler for the rules.
Pair it with:
Appletini
Basically the "it" drink of the 90's.
Ingredients
Directions
Place martini glass in freezer to chill.
Combine vodka, schnapps, and calvados in a cocktail shaker. Fill with ice and shake until chilled, about 30 seconds.
Pour cocktail into chilled glass and garnish with apple slice.
Sunshine Cocktail
Ok, this one is kind of a stretch but bear with us – The show "Little Fires Everywhere" starring Reese Witherspoon is based on a book. Reese Witherspoon has a popular online book club that just so happens to be named Hello Sunshine!
Ingredients
Directions
Add all ingredients and ice to shaker.
Shake.
Strain into chilled glass and enjoy!