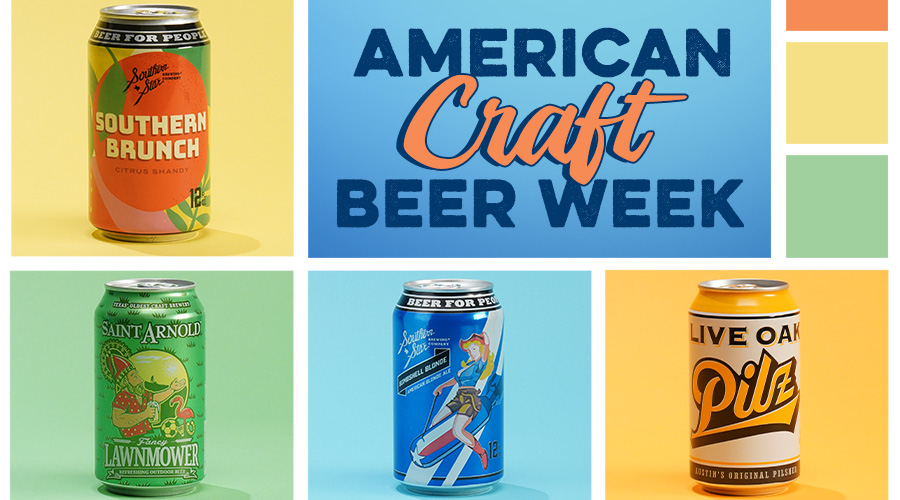 American's love for craft beers has continued its meteoric rise for good reason – they're great beers! From the robust porters aged in bourbon barrels to the salty gose and unique sours, to all kinds of IPAs, and whatever else they think up. We just can't seem to get enough of them!
So, in honor of American Craft Beer Week, we're listing some of our Texas favorites to help you narrow down your choices because if American craft beer has given us anything, it's an almost overwhelming number of options!
512 Brewing – Austin, Texas
Pale is a light and crushable American Pale Ale brewed with Organic 2-row malted barley and a hint of crystal malt and wheat. Hopped with some of our favorite hops like Simcoe and Amarillo, (512) Pale has a hop strike that leans citrusy balanced with crisp pale malt flavor.
Saint Arnold – Houston, Texas
This crisp, sessionable Pale Ale is brewed with a combination of hops: Centennial hops at the beginning of the boil for bitterness, and Amarillo and Galaxy hops at the end for the bulk of the flavor and aroma.
Karbach – Houston, Texas
This dry-hopped, Texas IPA is packed with the bracing bitterness of hops from around the world including German Magnum, Cascade, Amarillo, Citra, Simcoe, and East Kent Goldings. It packs a punch and then helps you back up.
Southern Star – Conroe, Texas
Southern Brunch is a Citrus Shandy with explosive citrus aroma and flavor making you drop mimosas forever. If there was an official beer of breakfast, this would be it. This beer was made for people who don't like beer but will love this one.
Brewed with American Pale and Vienna malt that combine to give this ale its distinctive smooth, creamy body. Just enough hops are added to this rich, golden colored ale to perfectly balance its bready finish.
Deep Ellum – Dallas, Texas
This shimmering, golden ale combines citrusy and floral American hops with Pale, Vienna and Wheat malts. It's a beautifully balanced, sessionable brew. Guaranteed to deliver more fun—go blonde.
If there was ever an IPA made for summer, Easy Peasy is it! Brewed with tangerine and lemon peel, and Pacific Northwest aroma hops, this is one easy-drinking IPA that will leave you thirsting for more year-round.
Thirsty Planet – Austin, Texas
You don't see too many amber ales around, but Thirsty Goat is an excellent example of the style. The aroma and flavor feature a sweet and nutty malt complexion of toasted almonds, toffee, brown sugar, and hints of baked bread.
Live Oak – Austin, Texas
Live Oak Pilz is a classic Bohemian-style golden lager, decoction-mashed with a single heirloom variety Moravian malt. Premium Saaz hops combine to produce a clean, crisp pilsner with complex malt flavor and spicy hop bitterness and aroma.
Real Ale – Blanco, Texas
With an ever-drinkable balance of smooth malt and zesty hops, this refreshing blonde is perfect on a hot day or paired with spicy food. This Texas-made blonde ale is award-winning and highly drinkable!
Inspired by the pilsner beers of Northern Germany, Hans is crisp, brightly hoppy, and full of flavor. At 50 IBUs and featuring Tettnang hops, it's even hoppier than many pale ales. The German malt helps create a nice pale golden color and provides the perfect companion to the hops.