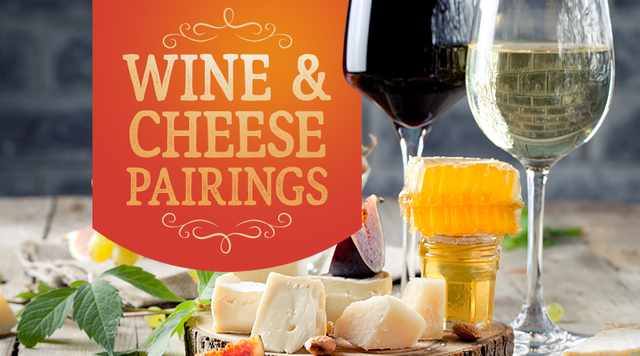 Before we get started, the most important thing to remember for any pairing situation is to go with what you like. It doesn't matter what anyone else says, if you enjoy it go for it!
That being said, we've put together some general guidelines you're totally free to ignore. If you don't know much about cheese or wine, just remember to pair by flavor intensity – and keep in mind that age and intensity are directly related.
Young fresh cheeses have a high water content and a milky and delicate texture. As the cheese ages, the moisture slowly evaporates leaving a harder cheese with more rich and savory flavors.
Pairing Cheese with Wine Tips
Young cheeses pair well with light-bodied reds and fruity, crisp whites.
Medium-aged cheeses pair with medium-bodied whites and fruit-forward reds.
Hard cheeses pair well with full-bodied reds and full-bodied whites.
Get To The Pairings Already!
Fresh, Soft Cheese
Cheeses: Ricotta, Mozzarella, Burrata, Chèvre, Feta, Halloumi, Brie, Camembert, Brillat-Savarin, Crottin, Bûcheron
Wine: Riesling (dry to sweet), Gewürztraminer, Moscato, Champagne, Cava, Chablis, Chenin Blanc, Pinot Gris, Pinot Grigio, Albariño, Grüner Veltliner, unoaked Chardonnay, Sauvignon Blanc, Provençal rosé
Semi-Hard, Medium-aged Cheese
Cheeses: Havarti, Edam, Emmental, Gruyère, Jarlsberg, young Cheddar, Monterey Jack, Manchego, Tomme d'Alsace
Wine: Chardonnay, Zinfandel, white Bordeaux, Pinot Blanc, Viognier, white Rhône blends, Riesling (off-dry), red Burgundy, Pinot Noir, Beaujolais, Dolcetto, Barbera, Merlot
Hard, Aged Cheese
Cheeses: Aged Cheddar, Cheshire, Comté, aged Gruyère, aged Gouda, Pecorino, Manchego, Asiago, Parmigiano Reggiano
Wine: Rioja, sweet Riesling, Viognier, Vin Jaune, red Burgundy, red Bordeaux, Cabernet Sauvignon, Barolo, Barbaresco, Nebbiolo, Petite Sirah, California red blends, red Rhône blends