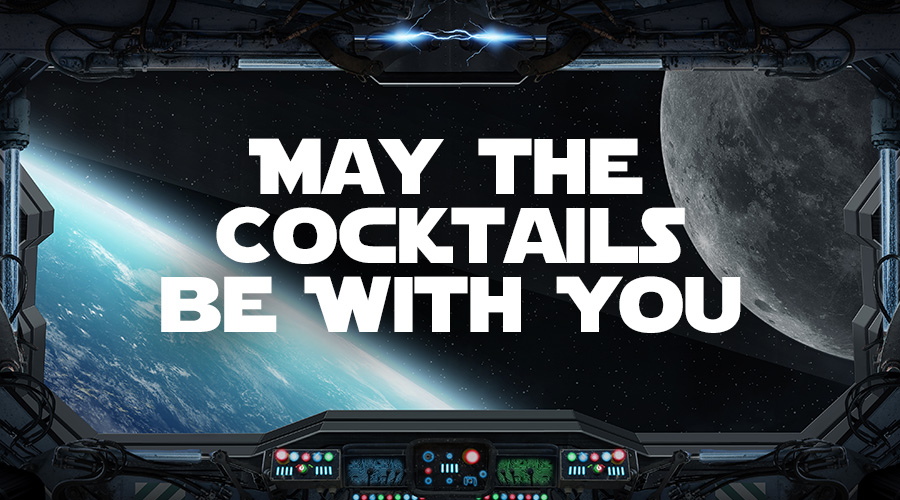 Star Wars Cocktails, They Are
May the fourth be with you…on May 4th – the unofficially official Star Wars holiday! This year it falls on Midichlorian Monday, so plan accordingly, young Jedi. So, in order to get your Mos Eisley Cantina hopping, you're going to need some cocktails.
While we can't travel the system collecting the ingredients required for a Red Dwarf (found on the Mos Eisley secret smugglers menu) and consisting of Polanis Red & Mandallian Narcolethe mixed with Recirculated Fizzwater – we can offer up a fun list of Star Wars themed cocktails even the lowliest nerf herder can whip up!
BB-8 Dark & Stormy
Based on your favorite skittish but loyal astromech droid.
Ingredients
3 oz Dark Rum
8 oz Ginger Beer
1 tsp fresh ginger (optional)
2 lime wedges (for serving)
Candied ginger (for garnish), optional
Directions
Fill two tall glasses with ice and pour about 4 oz of ginger beer in each.
Grate about a half teaspoon of fresh ginger into each glass
Top each glass with 1.5 oz of rum by pouring it slowly over the back of a spoon to create the 'float' effect.
Blue Milk of Tatooine
A terrestrial cousin of bantha milk
Ingredients
2 oz Gin
1 oz Coconut cream
1/2 oz Blue curaçao
1/2 oz Vanilla syrup
1/2 oz Orgeat Syrup
3/4 oz Pineapple juice
3/4 oz Lime juice
Directions
Add all ingredients to a shaker with ice.
Shake, and strain into a milk bottle or Collins glass.
Baby Yoda
No explanation required
Ingredients
1 part Kahlua
1 part vodka
1/2 part milk
1 scoop mint chocolate chip ice cream
Ice
Directions
Fill a glass to the brim with ice.
Pour in Kahlua and vodka of your choice, then give the drink a quick stir.
Pour milk on top (careful not to overflow!) then finish with a scoop of mint chocolate chip ice cream on top (balancing the ice cream on the ice).
Serve immediately – before BY wakes up
Kylo Ren Rita
The Dark side is delicious
Ingredients
6 oz blackberries
2 oz tequila
1 oz lime juice
2 oz triple sec
1/2 oz simple syrup
1 oz cherry juice
Black food coloring
Silver sanding sugar
Directions
Rim a margarita glass with the silver sugar, using either more simple syrup or a lime wedge to make the rim sticky, then dipping the glass into a saucer of the sugar. Set aside.
Pour the cherry juice and simple syrup into the bottom of a margarita glass.
Blend blackberries, tequila, lime juice, and triple sec in a blender until smooth. Strain to remove seeds.
Add 2-3 drops of black food coloring and mix well.
Very slowly pour the blackberry layer over the back of a spoon so it floats on top of the red.
Serve immediately
Wookie Fuzzball
RWGWGWARAHHHHWWRGGWRWRW!
Ingredients
Directions
Add all ingredients except chocolate syrup into a shaker; shake well and strain into chilled glass that has chocolate syrup spiral drizzle inside.
Kessel Rum
For when you have 12 parsecs to spare
Ingredients
Directions
Shake ingredients. Serve with an apple fan on lime wedge and cherry.
Planet Hoth Toddy
Looks like its name sake – a planet of snow and ice
Ingredients
Directions
Add all ingredients to a shaker with ice.
Shake vigorously, and double strain into a coupe.
Garnish with nutmeg.
Obi-Rum
If you drink it down, you shall become more powerful than you can possibly imagine.
Ingredients
1 oz Spiced Rum
½ oz Overproof rum
2/3 oz Vanilla and cinnamon syrup
½ oz Orange juice
1 egg
Garnish: Cinnamon stick
Directions
Shake all ingredients and double-strain into the glass. Garnish with smoldering cinnamon stick.