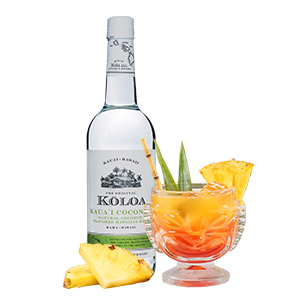 Mango Sunrise Piña Colada
Ingredients:
2 oz Koloa Coconut Rum
2 oz mango juice
2 oz pineapple juice
1 tbsp coconut cream
1 tbsp Rose's Grenadine
Pineapple for garnish
Directions:
In a cocktail shaker with ice, add the rum, mango and pineapple juices. Shake well to combine and chill. Pour over ice into a cocktail glass. Top with coconut cream, grenadine and fresh pineapple for garnish. Enjoy!